CADA
CADA fall 2019: A welcome from Dean Rebecca Rugg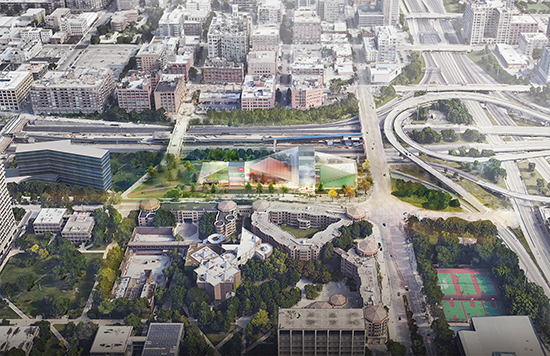 Welcome to the 2019–20 academic year at the College of Architecture, Design, and the Arts (CADA).
"Welcome" is a word very much on my mind as I wish to express my gratitude for the warm welcome I have received since I arrived this summer to serve as Dean of the College. Thank you for drawing me to this artful place, where I am fortunate to join you in empowering our students and ourselves to improve the world through art and design, whether by making art, sharing it, or studying it in a historical context — all taking place in welcoming studios, museums, classrooms, theaters, concert halls, student residences, and laboratories, on campus and well beyond.
Every place is a place for art. The CADA stories listed below shift settings, from "local places around the world," as explored by the School of Art & Art History program "Political Ecology as Practice" to the electricity of the room when the three finalist architectural teams for the commission to design our Center for the Arts presented their work to an engaged and engaging CADA community; from the range of places where UIC students are using design methods to improve healthcare, to the stage of the UIC Theatre, where a new season of dramas soon will unfold; and from the galleries of the Chicago Cultural Center, DePaul Art Museum, and the National Veterans Art Museum, where our students helped mount the NVAN Triennial and Veteran Art Summit, to the music classrooms conjured by Head of Music Studies Louis Bergonzi.
"Welcome" is an active verb that conveys inclusion, openness, and thoughtfulness about the interests and needs of others. We are here to provide an accessible path to an exceptional arts and design education, within the public University of Illinois at Chicago. Upholding all of what we do is our aim to educate multifaceted people who approach their education with a strong sense of purpose. In this endeavor, I am inspired by the great cellist Yo-Yo Ma's idea of the citizen artist.
What is a citizen artist? Citizen artists seek to discover how their unique voices can contribute to our world. They understand why they are artists: what they are here on earth to say, to study, to create. I hope this sense of purpose is felt as a call to action by all the citizens of our college — staff, faculty, and students alike. You are all welcome here.
Warmly,
Rebecca Rugg
CADA fall 2019: Welcome to new ideas. Inventive programs, collaborations, performances, and plans — CADA invites you to make, see, and experience art anew.
---
School of Architecture
School of Theatre and Music
Artful building: The story (so far) of the new Center for the Arts
---
School of Architecture
Sean Lally participates in Exhibit Columbus 2019
"Dear Stanley": Robert Somol remembers Stanley Tigerman
---
School of Design
Design in good health: How interdisciplinary collaboration is improving healthcare
---
School of Art & Art History
A collaboration on political ecology by Ömür Harmanşah
The art of war: The National Veterans Art Museum Triennial 
Martha Pollak named first Circle Professor of Art History
Sarah M. Dreller joins the Society of Architectural Historians
---
School of Theatre & Music
A conversation with UIC Head of Music, Dr. Louis Bergonzi
UIC Theatre season 2019–20: Borders | Boundaries | Us and Them
Fall Music Concert Series