Equity, Diversity, Inclusion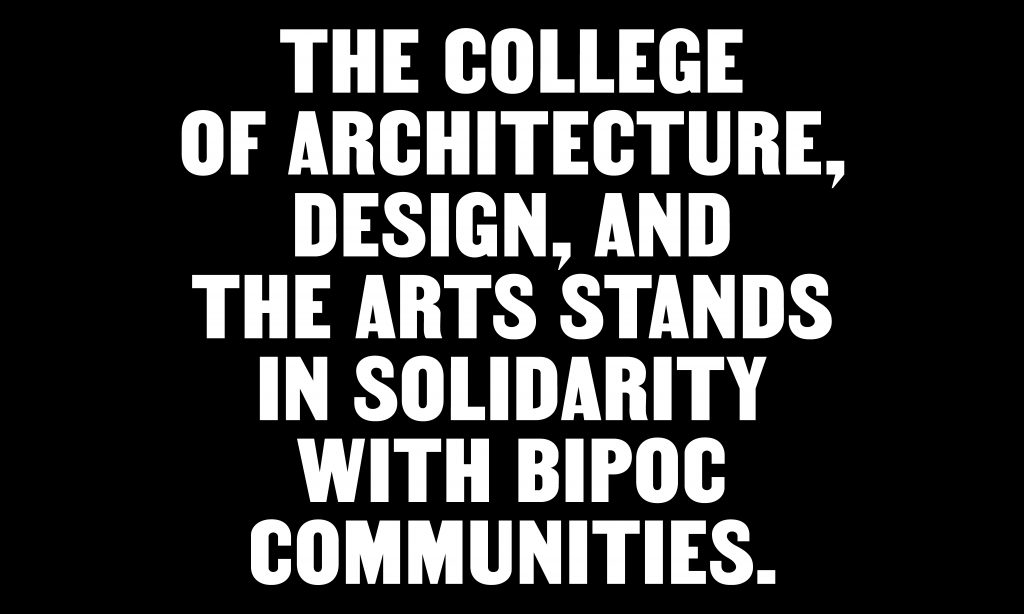 Dear CADA community,
As leaders of UIC's College of Architecture, Design, and the Arts, we are committed to actions that promote a more inclusive college. We stand with our BIPOC colleagues and students in solidarity as the country wrestles with its racist history, still-active white supremacy, and anti-Blackness. 
Important campus conversations are happening on the subjects of equity, diversity, inclusion, and allyship among students, faculty, and staff. We have read UIC's Student Demands, posted in the summer of 2020, with respect. We support the passionate, committed activity happening within each school, where the approach to these issues takes different shapes, reflecting each school's culture and discipline. Much of this work is, importantly, centered around the student experience.
We are examining how to address these issues on the school, college, and campus levels. We are deeply engaged in creating an open and inclusive culture, and in activating our role as advocates for equity and anti-racism in our professional fields. 
We affirm the following priorities:
Increasing support mechanisms for BIPOC students, including financial support 

Hiring and retaining BIPOC faculty

Advocating for equity, diversity, and inclusion in the creative professions

Supporting faculty in decolonizing program curricula

Creating a culture of allyship
We will remain accountable to the CADA community on activities related to these priorities through reporting and regular opportunities for dialogue.
We are inspired by the voices calling for action and reform on our campus and in our professional communities. The creative disciplines are drivers of civic engagement, and we are especially proud of CADA students and faculty who are powerful catalysts for change.
In solidarity,
Rebecca Rugg
Dean, College of Architecture, Design, and the Arts
Christine Dunford
Director, School of Theatre and Music
Marcia Lausen
Director, School of Design
Jennifer Reeder
Director, School of Art and Art History
Robert Somol
Director, School of Architecture
COLLEGE OF ARCHITECTURE, DESIGN, AND THE ARTS
The College Diversity Committee is being reorganized, with a mission to serve and support the work originating in the schools. The committee will provide an avenue for sharing what's happening across schools, and for elevating issues or projects which can only be handled and advocated for more centrally. Additionally, the Dean's office has initiated conversations at the campus and system level towards renaming Henry and Jefferson Halls.
The School of Architecture is working with local firms, professional organizations, and community partners to create new education and mentorship opportunities for underrepresented students interested in studying architecture. This initiative, which advocates for diversity and inclusion in architecture, develops new ways of engaging directly with CPS programs during the academic year and builds upon the school's HiArch summer program, which introduces high school students to the culture of education in architecture. Plans for dedicated internships with local firms for HiArch students, as well as graduate fellowship support from individual firms, are already underway, expanding the pipeline for diverse professionals in the industry.
SCHOOL OF ART AND ART HISTORY
A group of staff and faculty have organized a Racial Justice Task Force to actively address ongoing racial injustice, systemic racism, and inequity within the school and university. The task force has committed to a number of initiatives, several of which are underway. These include convening a series of town halls centered on the needs, perspectives, and demands of BIPOC students in the school, and leading a series of student-focused conversations in collaboration with the anti-racist collective Make Yourself Useful, which emphasizes the active role of white people within racial and social justice movements.
On Juneteenth the School of Design launched a fundraiser for its UIC Osmosis Charles Harrison Scholarship. Established in 2014, this fund immediately and directly supports design students of color and serves as a vital resource for further diversifying the school's student body and the design profession.

In November 2020 the school announced the full-time hire of designer Norman Teague, who joins the design faculty as a tenure track Assistant Professor of Industrial Design. Teague is the founder of Norman Teague Design Studios and co-founder with Fo Wilson of Chicago-based Blkhaus Studios. He has been teaching in the UIC School of Design since 2016.
SCHOOL OF THEATRE AND MUSIC
Inspired by a recognized need for change and by the "We See You, White American Theater" statement, theatre faculty worked over the summer and fall of 2020 to review curricula, syllabi, and pedagogy in order to better serve BIPOC students and colleagues. Building on this, music faculty formed their own working groups and are engaged in similar, discipline-specific work. In addition, faculty and staff approved a school-wide Antiracism Commitment and Action Plan that outlines priorities and will direct efforts; and leadership established a new Associate Director position as well as an STM Antiracism Advisory Committee composed of elected student, staff, and faculty representatives to lead work this year. Finally, faculty and staff are engaging in on-going department and school antiracism education, training, and workshops.