Theatre & Music
UIC Theatre season 2019–2020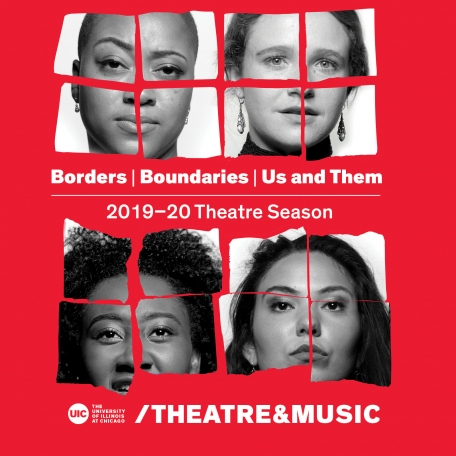 Tuesday, June 04, 2019–Sunday, April 26, 2020
Tuesday 6.4-4.26.20 7:30 PM
 Borders | Boundaries | Us and Them
Follow UIC School of Theatre and Music's underdogs as they wrestle for

land, love, family and a taste of success in this year's 19-20 theatre season.
The 2019-2020 Mainstage Theatre Season is dedicated to the memory of Professor Emeritus Anthony Graham-White, in honor of 32 years of service to Theatre and Music at UIC.
THE LUCK OF THE IRISH

By Kirsten Greenidge

Directed by Tyrone Phillips

Oct 4 – 13, 2019
When an upwardly mobile African-American couple wants to buy a home in an all-white neighborhood in 1950s Boston, they pay a struggling Irish family to "ghost-buy" a house on their behalf. Fifty years later, the Irish family wants "their" house back. Moving across two eras, The Luck of the Irish explores racial and social issues and the universal longing for home.
Kirsten Greenidge wrote the play inspired by her grandparents' efforts to buy a house in a white neighborhood. Tyrone Phillips, Artistic Director of Definition Theatre will direct at UIC Theatre for the first time.
Show Times
2pm | 10/06* 10/12 10/13
3pm | 10/09
7:30pm | 10/04 10/05 10/10 10/11 10/12
*Free post-show talk with artists and special guests. 



Topics: Ghost Buying, Integration, and Tolerance
Buy Tickets Here: http://bit.ly/LuckofTheIrishUIC
IN THE NEXT ROOM or THE VIBRATOR PLAY

By Sarah Ruhl

Directed by Lydia Diamond

Nov 15 – Nov 24, 2019
In a seemingly perfect Victorian home, proper gentleman and scientist Dr. Givings has innocently invented an extraordinary new device for treating "hysteria" in women (and occasionally men): the vibrator. Adjacent to the doctor's laboratory, his young and energetic wife tries to tend to their newborn daughter – and wonders exactly what is going on in the next room. Through a series of events and encounters with the patients, Dr. and Mrs. Givings must examine the nature of their own marriage and what it truly means to love someone.
This laugh out loud, provocative and touching play premiered at Berkely Rep and subsequently marked Sara Ruhl's Broadway debut in 2009. Faculty member and Jeff Award-winning playwright Lydia Diamond directs.
Show Times
2pm | 11/17* 11/23 11/24
3pm | 11/20
7:30pm | 11/15 11/16 11/21 11/22 11/23 
*Free post-show talk with artists and special guests.



Topics: Hysteria, Desire, and Marriage
Buy Tickets Here: http://bit.ly/inthenextroomUIC
BARBECUE

By Robert O'Hara

Directed by Derrick Sanders

Feb 21 – March 1, 2020
The O'Mallerys have gathered in their local park to share some barbecue and straight talk with their sister Barbara, whose spiral of drugs and recklessness has forced her siblings to stage an open-air intervention. But the event becomes raucous and unpredictable as familial stereotypes collide with hard realities, and racial politics slam up against the stories we tell—and maybe even believe—about who we were and who we've become.
Jeff Award-winning director and the School of Theatre and Music faculty member Derrick Sanders directs.
Show Times
2pm | 02/23* 02/29 03/01
3pm | 02/26
7:30pm | 02/2102/22 02/27 02/28 02/29
*Free post-show talk with artists and special guests.



Topics: Addiction, Dysfunctional Families, and Zippity Boom!
 Buy Tickets Here: http://bit.ly/BarbecueUIC
EL NOGALAR

By Tanya Saracho

Directed by Marcela Muñoz

Apr 17 – Apr 26, 2020
Set in modern-day Northern Mexico, the Galvan family, led by Matriarch Maite, have come back to their pecan orchard to reclaim their land after she has squandered away their money while living in America. In the time they were away, however, the Mexico they once knew has slowly been taken over by a drug war. Focusing on the relationships between the sisters, and a mother and her daughters, will these women choose to adapt to the world around them or get left behind?
Inspired by Anton Chekhov's Cherry Orchard, Tanya Saracho has created a world where class pressure and social turmoil threatens traditional families' land and lifestyle in contemporary Mexico. Marcela Muñoz, Co-Artistic Director of Aguijón Theatre who directed last season's enigmatic production of Electricidad is back directing at UIC Theatre.
Show Times
2pm | 04/19* 04/25 04/26
3pm | 04/22
7:30pm | 04/17 04/18 04/23 04/24 04/25
*Free post-show talk with artists and special guests.



Topics: Narco Wars, Class Struggle, and Corruption
Buy Tickets Here: http://bit.ly/elnogalarUIC
How to Order
ONLINE

By phone: 312.996.2939

In person: 1044 W Harrison St (lower level)

10:00am – 4:30pm Mon -Fri

Box office opens 2 hours before the show on theatre performance days
Ticket Prices:


General Admission: $15

Student/ Senior: $10

UIC Students: $5
PARKING

Parking is available for a flat fee of $13.00 ($9.00 after 3pm) on the weekdays and $9.00 on the weekends in the UIC Harrison Street Parking Structure (HRPS): 1100 W Harrison. Guests can pay as they enter with cash or credit card.

There is also an open-air parking lot (Lot 1B) on the corner of Racine and Harrison Street (enter on Harrison heading east). This is a variable rate parking lot but could be less expensive if you do not stay for more than 3.5 hours.
For more information on parking visit: https://parking.uic.edu/rates-fees/
PUBLIC TRANSPORTATION

CTA Blue Line to UIC-Halsted. There are 3 exits from this platform. Take the far west exit with the long ramp (towards Morgan Street). There are also CTA buses (#7 and #60) that stop directly in front of our building.