Art & Art History
With Reasonable Accommodation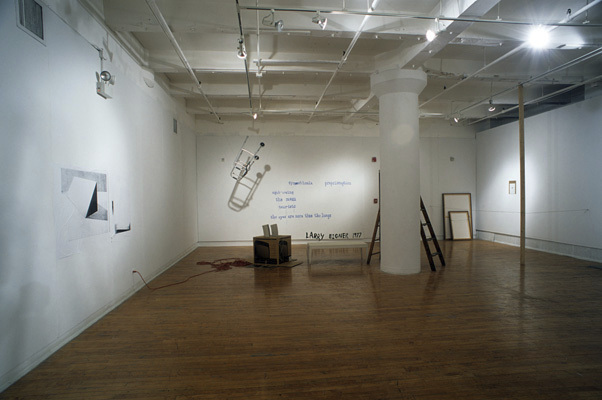 Tuesday, October 29, 2002–Saturday, November 09, 2002
Location:
Gallery 400
400 South Peoria Street, Chicago, IL 60607
Stephen Lapthisophon
For his installation piece With Reasonable Accommodation, Stephen Lapthisophon incorporates a multitude of elements, including sound, vibration, sculptural intrusions, ladders, architectural details, ramps, obstacles, images, and signage. The installation, exhibited in the twelfth year of the Americans with Disabilities Act, underscores the efficiencies and inefficiencies of our collective response to issues of disability and access. Based on Lapthisophon 's memory of the old wheelchair lift in the lobby outside of the Gallery 400 space, the exhibition places the viewers in the role of the impaired, constraining their movements and inhibiting their understanding of modern art.
Lisa Wainwright wrote in her essay, "Found Objects and the Art of Steven Lapthisophon:"
Found object art is uncanny in that it is both familiar (a recognizable thing from the everyday world) and unfamiliar (the thing retooled as art and presented in a gallery). The beauty of this fluctuation between the familiar and unfamiliar, the real and the imaginary, is compounded by the manner in which the ordinary is displayed. At Gallery 400, Lapthisophon choreographs our encounter with cardboard boxes, ramps, walkers, coiled electrical cords, and appropriated art. We trip across things, strain to see images, and maneuver around obstacles and situations throughout the space. It is all rather unsettling, if not ludicrous.
The exhibition was accompanied by a panel discussion with Andrew Metter, Annex/5 Architects, Chicago; Joshua Flanders, Chicago Institute for the Moving Image; and David Mitchell, Department of Disability and Human Development, University of Illinois at Chicago.
With Reasonable Accommodation was commissioned as one of the projects in the 2002 At the Edge: Innovative Art in Chicago
series.