Art & Art History
Voices: Victoria Fu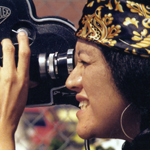 Tuesday, September 30, 2014–Wednesday, October 01, 2014
Location:
Gallery 400
400 South Peoria Street
Join experimental filmmaker and photographer Victoria Fu as she discusses her practice. Fu lives and works in Los Angeles and San Diego, where she is Assistant Professor of Art at the University of San Diego. She works predominantly in film and photography. In her film work, she frequently blends digital video and analog film, with imagery combining both original and appropriated content. When working with narrative, she prefers her actors to work without scripts. In the 2014 Whitney Biennial, Fu presented a video installation in the Museum s Lobby Gallery where she appropriated stock media footage against abstracted backgrounds transferred to video from 16mm film. Her installations are
often projected on a multi-layered surface, operating in a visual arena that dissolves boundaries between projected light and image, representation and abstraction, narrative and form.
In addition to the Whitney Museum of American Art, New York, Fu s film and video installations have been exhibited at the Museum of Contemporary Art San Diego, La Jolla, CA; de Appel, Amsterdam, Netherlands; Museo de la Ciudad, Quito, Ecuador; and Seoul National University Museum, Seoul, Korea, among others. She is co-founder of ARTOFFICE.org, an organization established in 2006 dedicated to artists' film and video. Recipient of a 2013 Art Matters Grant, she was a participant of the Whitney Independent Study Program and artist-in-residence at Skowhegan and the Atlantic Center for the Arts. Fu received her MFA from CalArts, MA in Art History from USC, and BA in Art from Stanford. She attended the Whitney Independent Study Program and Skowhegan School of Painting & Sculpture.