Art & Art History
Voices: studio blue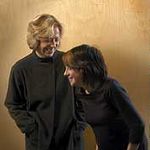 Monday, February 11, 2002–Tuesday, February 12, 2002
Location:
Gallery 400 Lecture Room
400 South Peoria Street
Established in 1993, studio blue is a Chicago design firm run by partners Cheryl Towler-Weese and Kathy Frederickson. Studio blue develops and designs books, environmental design, identities, and a range of web and printed matter. Projects are grounded in the liberal arts, incorporating both culture and context. The studio works with museums, publishers, corporations, universities, and other institutions, focusing on projects that involve close collaboration between client and designer, the opportunity to develop content and innovative ways of communicating with the public. 
Studio blue is currently working on the design of
365: AIGA Year in Review. Each year the American Institute of Graphic Arts selects a different designer for this design annual. For their design, studio blue uses narratives derived from questionnaires sent to AIGA designers, examining the designer's creative process, attempting to draw conclusions about how, when, and where design is made. The studio has been recognized by the American Center for Design, the American Institute for Graphic Arts, the American Association for Museums, the Art Library Society, and
Print magazine.