Art & Art History
Voices: Molly Zuckerman-Hartung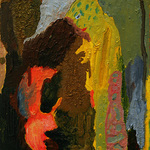 Tuesday, November 09, 2010
Location:
Gallery 400 Lecture Room
400 South Peoria Street
Molly Zuckerman-Hartung (born 1975) is a painter who lives and works in Chicago. Her small, abstract paintings demand attentive viewers who can let down their guard. Without stepping into sentimentality, Zuckerman-Hartung imbues her paintings with feeling, energy, and mood. 
Zuckerman-Hartung s work has been shown internationally, featured in exhibitions at Alogon Gallery, Chicago; Lisa Cooley Fine Art, New York; Jacky Strenz Gallery, Frankfurt; and Rowley Kennerk Gallery, Chicago. She is a co-founder of Julius Caesar, an artist-run exhibition space in Chicago. She is also the author of Notes on Susan Sontag (2009). Zuckerman-Hartung currently teaches at Northwestern University and School of the Art Institute of Chicago. She received a BA from Evergreen State College, Olympia, Washington, and an MFA from School of the Art Institute of Chicago. 
Image: Molly Zuckerman-Hartung, 200Ate, 2009, oil on canvas.