Art & Art History
Voices: Minerva Cuevas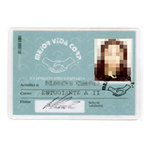 Tuesday, March 25, 2003–Wednesday, March 26, 2003
Location:
Gallery 400 Lecture Room
1240 West Harrison Street
Through her "Mejor Vida Corp.", Minerva Cuevas (born 1975) has produced and circulated student identifications and letters of recommendation to anyone who requested them, and has distributed sticker barcodes with made-up lower prices as a means of substituting price tags at major franchise supermarkets. In addition to her operations with micro-activist strategies, Cuevas has also created a body of work in video that investigates the making, and sometimes fusion of, performance and image. Selfdoor (1998), consisting of a wall-size video projection, pictures the artist in a darkened room repeatedly striking a wall with a hammer. The video ends when the artist has completely dismantled the wall and an image of a landscape appears.
Cuevas was DAAD Artist-in-Residence this year. Her work has been exhibited internationally, including at Kunst-Werke, Berlin; MoMA PS1, New York; Vienna Secession; Apex Art, New York; and the Banff Centre, Canada. She received a BA in Visual Arts from Escuela Nacional de Artes Pl sticas, Mexico City.
Special thanks to Yollocalli Youth Museum and Walter Ornelas.