Art & Art History
Voices: Leslie Hewitt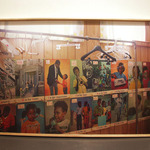 Tuesday, April 08, 2008
Location:
Gallery 400 Lecture Room
400 South Peoria Street
Leslie Hewitt (born 1977) uses photography, sculpture, and film to challenge the representation and organization of social meaning. Hewitt uses the camera as a tool to reposition one's view, subtly disrupting the window effect and expectations of a photographic document. She engages architectural space and the fragmentation of time through photographic and sculptural means. In exploring the revolution embedded in photography and film, her work addresses how cultural material is documented, classified, and preserved.
Hewitt was included in the 2008 Whitney Biennial. She has also exhibited at the Bronx Museum of the Arts, New York; Studio Museum, Harlem, New York; Sculpture Center, New York; Rush Arts Gallery, New York; Wadsworth Athenaeum Museum of Art, Hartford, CT; and LA><ART, Los Angeles, CA.
Leslie Hewitt, Untitled, 2005, framed C-print on masonite, 86 x 62 in.