Art & Art History
Voices: Laurie Palmer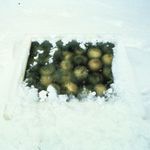 Tuesday, March 19, 1996–Wednesday, March 20, 1996
Location:
Gallery 400 Lecture Room
400 South Peoria Street
Laurie Palmer (born 1958) situates her work between the organic flexibility of matter and the logical abstraction of systems. Her installations include found material and castaway objects whose use has been denied or forgotten combined with growing things, such as vegetables or plants. Her sculptures are about ecology, saving what we have and making use of resources, even if decadent or decayed. Like all ecosystems, they have their own timetable and cannot be rushed. They are about the beauty of decay, the decay of beauty, or both.
Palmer's exhibitions include
Detail in the Cottage, Randolph Street Gallery, Chicago;
Housekeeping, Walker's Point Center for the Arts, Milwaukee;
New Faces, New Places, ARC Gallery, Chicago;
Laurie Palmer and John Ploof, School of the Art Institute Gallery, Chicago; among others.
Winter Flush: A Temporary Garden is currently on view at the Artists Space, New York.
Palmer earned a BA from Williams College, Williamstown, Massachusetts, and an MFA from the School of the Art Institute of Chicago, Illinois.