Art & Art History
Voices: John Vinci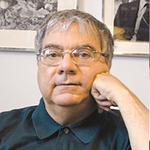 Tuesday, September 01, 1998–Wednesday, September 02, 1998
Location:
Gallery 400 Lecture Room
400 South Peoria Street
As part of a series of collaborations between the School of Architecture and the School of Art and Design, artist Dan Graham will be an artist-in-residence at the University of Illinois at Chicago at the end of this month. 
Chicago architect John Vinci presents his ideas about the relationship of architecture to the artist's work, having published Dan Graham Sculpture as Architecture, Architecture as Sculpture in 1994 for the Dia Center for the Arts and as a response to Graham's Urban Rooftop Project.
Vinci has received numerous national and regional awards, including the AIA National Honor award for the restoration of the Frank Lloyd Wright Home and Studio. Past projects include the renovation of several galleries of the Art Institute of Chicago, the Bergman Gallery renovation at the Renaissance Society in Hyde Park, and the new Arts Club of Chicago Building, which he completed in 1997. Vinci received a BArch from the Illinois Institute of Technology and has since practiced in Chicago and the Midwest.