Art & Art History
Voices: Erwin Wurm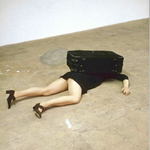 Wednesday, September 11, 2002–Thursday, September 12, 2002
Location:
Gallery 400 Lecture Room
1240 West Harrison Street
Noted Austrian artist Erwin Wurm (born 1954) has been preoccupied since the 1980s with expanding the concept of sculpture to include the momentary, not merely the static. He frequently invites volunteers to become a temporary sculpture, providing them with various props from everyday life: pencils, buckets, flowers, teacups, fruit, or sweaters, to name a few. He has them interact with these objects in odd or unconventional ways. What remain are often quirky, humorous photographs or videos documenting a single moment in the transitory life of these works.
Wurm has had solo exhibitions at Museum moderner Kunst Stiftung Ludwig Wien, Vienna; Centre national de la Photographie, Paris; Kunsthaus Bregenz, Austria; and Fonds r gional d'art contemporain Limousin, Limoges, France. His work has been featured in many important group exhibitions, including the 5th Lyon Biennale of Contemporary Art: Partage d'Exotismes and Uncommon Denominator (MASS MoCA). Wurm studied at the Academy of Applied Arts, Vienna and Universit t Mozarteum, Salzburg.
Special thanks to Vedanta Gallery.