Art & Art History
Voices: Edgar Arceneaux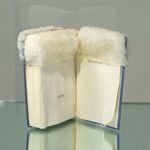 Tuesday, March 04, 2003–Wednesday, March 05, 2003
Location:
Gallery 400 Lecture Room
1240 West Harrison Street
For the last several years, Los Angeles-based artist Edgar Arceneaux (born 1972) has used language in his drawings to inscribe a territory or construct a narrative situation that is highly inflected and subjective. Language is also the tool with which he explores a wide range of discourses, from universal humanism to popular culture. While examining the relationships between American and European mythologies, he investigates issues of class and social structure. Arceneaux's installations emphasize the tools and processes employed in drawing. He combines graphite on vellum drawings with objects from the artist's studio and the everyday environment, such as pencils, tape, scissors, and mailing tubes. This blurring of boundaries connects his art work historically to conceptualism's traditions of combining text, image, and process-oriented documentation of the artist's activities. At once intellectual and personal, minimal and elaborate, Arceneaux's installations explore identity, history, and popular culture through complex systems of organization.
Arceneaux has had solo exhibitions at Witte de With Centre for Contemporary Art, Rotterdam; the Studio Museum in Harlem, New York; Galerie Kamm, Berlin; and The Project, New York, among others. His work has appeared in numerous group exhibitions including Personal Plans, Kunsthalle Basel; Prophets of Boom, Staatliche Kunsthalle Baden-Baden; Unjustified, Apex Art, New York; One Planet Under a Groove, Bronx Museum of the Arts, New York; and Rappers Delight, The Yerba Buena Center for the Arts, San Francisco. He received a BFA from Art Center College of Design and an MFA from the California Institute of the Arts.
Image: Edgar Arceneaux, Failed Attempt at Crystallization, 2002, glass, sugar, crystals, wood, mirror, book, 55 x 18 x 20 in.