Art & Art History
Voices: Doug Ashford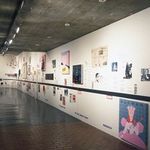 Tuesday, October 22, 1996–Wednesday, October 23, 1996
Location:
Gallery 400 Lecture Room
400 South Peoria Street
Installation artist Doug Ashford (born 1958) is visiting artist-in-residence at the School of Art and Design. In this lecture he will describe the sixteen-year collaborative project of Group Material in relation to recent developments in the creation of public meaning. Group Material has produced over fifty exhibitions and public projects internationally, using museums and other public spaces as cultural arenas in which audiences were invited to imagine democratic forms. Prominent in this history are the exhibitions The Castle, Documenta 8, Kassel, Germany; Democracy, the Dia Art Foundation, New York; and AIDS Timeline, the Berkeley Art Museum, California.
The possibility of resistance seems to be aligned these days with the necessity for beauty. As art practices become history, the positions that cultural work can occupy seem increasingly complex. This talk will address the conditions and circumstances of this complexity using Group Material's work as an indication of practical response.
Ashford is currently teaching at Saint Ann's School, New York; Vermont College, Vermont; and the Cooper Union, New York. He earned a BFA from the Cooper Union, New York.