Art & Art History
Visibility Machines: Harun Farocki and Trevor Paglen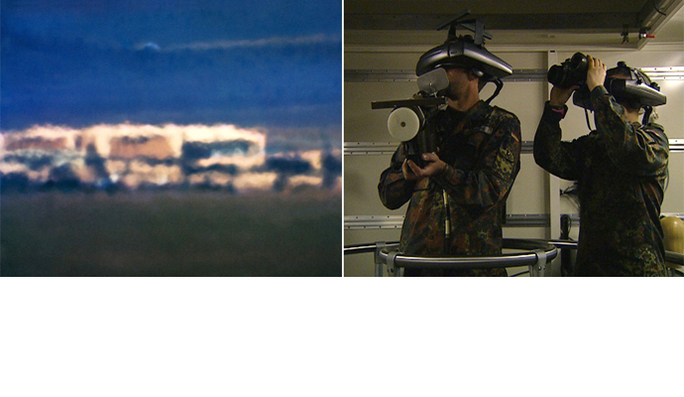 Friday, January 16, 2015–Saturday, March 14, 2015
Location:
Gallery 400
400 South Peoria Street, Chicago, IL 60607
Harun Farocki and Trevor Paglen.
Visibility Machines: Harun Farocki and Trevor Paglen, curated by Niels Van Tomme, explores the unique roles artists Harun Farocki and Trevor Paglen play as meticulous observers of the global military-industrial complex. Investigating forms of military surveillance, espionage, war-making, and weaponry, Farocki and Paglen each examine the deceptive and clandestine ways in which military projects have deeply transformed and politicized our relationship to images and the realities they appear to represent. The exhibition initiates critical questions about the role of images in revealing essential but largely concealed information. Visibility Machines places the oeuvres of Harun Farocki and Trevor Paglen within the broader cultural and historical developments of the media with which they creatively work, namely photography, film, and new media.
The late video artist and filmmaker Harun Farocki addressed the primary links between technology, politics, and coercion. Establishing a critical dialogue with images, image-making, and the institutions that produce them, his work reveals increasingly complex relationships between people and machines, vision and violence. Visual artist and photographer Trevor Paglen investigates the covert activities of U.S. secret military operations, collectively known as the "black world." Aligning himself with the study of the politics of perception, Paglen utilizes complex technologies of seeing in order to reveal the historical relationships between photography and political domination.
The exhibition marks the first time the work of these two internationally recognized artists has been shown together as well as evaluated with respect to one another. Both Harun Farocki and Trevor Paglen have dedicated their artistic research to reveal how the act of perception is usurped and manipulated by political, military, and cultural entities. This situation, coupled with ever-increasing technological developments in military and civilian surveillance, and robotics technology for warfare, deliberately marginalizes the role of the individual. In response, Visibility Machines offers an active space where the individual can become engaged in rethinking the political, military, and cultural environment they live in.