Art & Art History
Traversing Departures, Conversation on Female Diaspora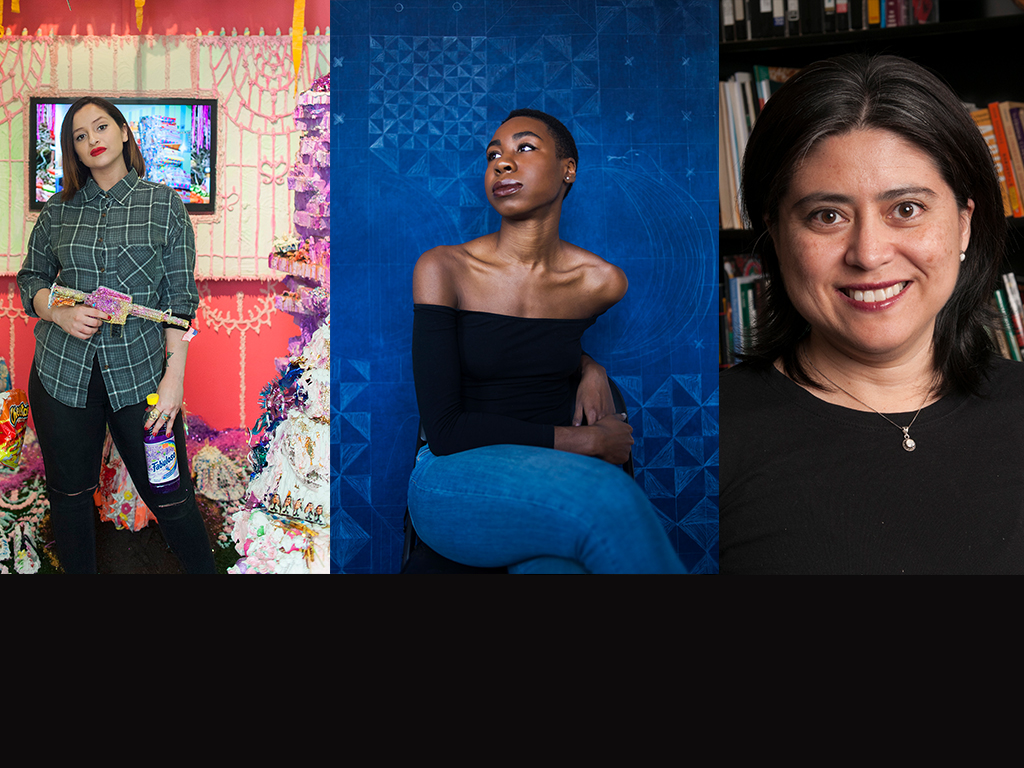 Wednesday, June 20, 2018
Location:
Gallery 400
400 S. Peoria St.
Traversing Departures is a public discussion between artists Yvette Mayorga and Alexandria Eregbu on forms of processing personal transnational narratives of migration to the U.S. Both artists will present their personal forms of mitigating representation of Black and Brown diaspora. Sociologist Xóchitl Bada (UIC) will join Mayorga and Eregbu as a moderator. Bada's research on Mexican American philanthropist innovators and Black and Brown intersectional relation development will serve as a backbone to examine Mayorga and Eregbu projects as a social byproduct of movement.
Traversing Departures is a conversation that digs into common ground between Black and Brown femmes, asking is it safe to assume an allyship or similarity? Through Mayorga, Eregbu and Bada we are able to see the full scope of individuality, research and methods of self-fashioning.
———————-
Xóchitl Bada is Associate Professor and Director of Undergraduate Studies in the Latin American and Latino Studies Program in the University of Illinois at Chicago. Her research interests include migrant access to political and social rights, migrant organizing strategies, and transnational labor advocacy mobilization in Mexico and the United States. She is a convener of De Aquí y de Allá. Jóvenes Sin Fronteras, the first strategic dialogue between young Latino undocumented leaders and young deported leaders celebrated in Mexico City in 2015. Her recent research has appeared in the journals Population, Space, and Place, Latino Studies, and Forced Migration Review. Her first book, Mexican Hometown Associations in Chicagoacán: From Local to Transnational Civic Engagement (Rutgers University Press, 2014, translation to Spanish by El Colegio de Michoacán, 2017) demonstrates how and why emergent forms of citizen participation practiced by Mexican Hometown Associations (HTAs) engage simultaneously with political elites in Mexico and the United States. She is co-editor of Context Matters: Latino Immigrant Civic Engagement in Nine U.S. Cities, a policy oriented series published by the Woodrow Wilson International Center for Scholars. With Shannon Gleeson (Cornell University), she is coediting a volume titled Enforcing Rights Across Borders (University of Texas Press, Forthcoming), a cross-national book project addressing the work on migrant rights advocacy in Mexico, Canada, and the United States. With Liliana Rivera (El Colegio de México), she is coediting the first Oxford Handbook of Sociology of Latin America.
Yvette Mayorga is an interdisciplinary artist and educator. She uses confection, industrial materials, and the American board game Candy Land as a conceptual framework to juxtapose the borderlands of the U.S. and Mexico. The spaces in the "Candy Lands" of her work relate to immigrant utopian visions of the American Dream. The smell, decoration, and personal photographs in work serve to critique the glut of violence at the border.
Mayorga has presented her work at The Vincent Price Art Museum, the School of the Art Institute of Chicago, EXPO, LACMA's Pacific Standard Time, The Chicago Cultural Center, The National Museum of Mexican Art, University of Indianapolis, The Arts Incubator, Roots and Culture, Weinberg/Newton, and forthcoming at Gallery 400, Ukraine Institute of Modern Art, & Lubeznik Center.
Mayorga received her MFA in Fiber and Material Studies from the School of the Art Institute of Chicago. She was featured in The Guardian, The Inter University Program for Latino Research, Art News, REMEZCLA, Teen Vogue and Hyperallergic.
Alexandria Eregbu is a visual artist, independent curator, and educator. At her core, Alexandria is most passionate about re-imagining 21st century possibilities for artistic practice through service and creating viable support structures that promote both sustainability and accessibility for artists and communities engaging the arts. Her teaching background and early interests in civic justice were initially fostered through her involvement with TRACE (Teens Re-Imagining Art, Community, and Environment) a creative leadership program facilitated through the Chicago Park District between 2013-2017. Today, Alexandria works in partnership with Illinois Humanities Council, as an independent curator for Envisioning Justice— a two-year initiative examining the impact of incarceration on seven of Chicago's most influenced communities.
As an artist, Alexandria's multi-faceted practice has illuminated pathways to the coasts Portland at the Pacific Northwest College of Art, the Contemporary Arts Center in New Orleans, Pioneer Works in Brooklyn, and throughout the Midwest from the Milwaukee Art Museum, The Luminary in St. Louis, the South Side Community Art Center, Chicago Cultural Center, and the Museum of Contemporary Art in Chicago. She has held fellowships, as both artist and curator, with ACRE (Steuben, WI); HATCH Projects, Stony Island Arts Bank, (Chicago, IL); The Center for Afrofuturist Studies (Iowa City, IA), Independent Curators International's Curatorial Intensive (New Orleans, LA); and The Camargo Foundation—3Arts Residency (Cassis, France). Alexandria's gravitation towards creative practice and inquiry has received generous support from the Propeller Fund, Chicago's Department of Cultural Affairs and Special Events, Independent Curators International, 3Arts, and Joyce Foundation. A 2016 3Arts Teaching Artist Award recipient, Alexandria received her BFA in Performance and Fiber & Material Studies from the School of the Art Institute of Chicago.