Art & Art History
Traduttore, Traditore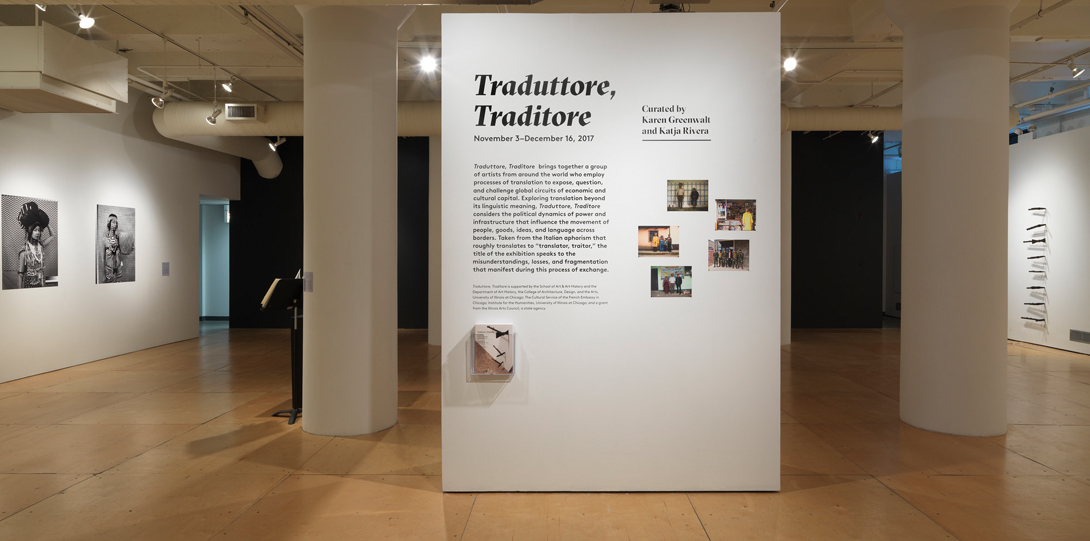 Friday, November 03, 2017–Saturday, December 16, 2017
Location:
Gallery 400
400 South Peoria Street, Chicago, IL 60607
Bani Abidi, Arturo Hernández Alcázar, Carlos Arias, Luis Camnitzer, Alejandro Cesarco, Bethany Collins, Brendan Fernandes, Dora García, Emily Jacir, Katia Kameli, Harold Mendez, Paulo Nazareth, Sherwin Ovid, Michael Rakowitz, Raqs Media Collective, Thamotharampillai Shanaathanan, Edra Soto, and Stephanie Syjuco
Traduttore, Traditore brings together a group of artists from around the world who employ processes of translation to expose, question, and challenge global circuits of economic and cultural capital. In the wake of the current political climate, it has become increasingly evident that uninhibited travel, communication, and trade are available to a privileged few. Emerging from this context, the exhibition uses translation as a means of exploring the change—of language, customs, currency, and even memory—that occurs when people cross borders. Shaped by their specific cultural history and geographic location, each artist offers a unique perspective on the difficulties of translation in the so-called global world. Taken from the Italian aphorism that roughly translates to "translator, traitor," the title of this project speaks to the misunderstandings, losses, and fragmentation that manifest during this process of exchange. Traduttore, Traditore therefore considers how artists navigate and expose issues of difference and proposes translation as a method by which to understand contemporary artistic practices.
About the Curator
Katja Rivera is Assistant Curator at Logan Center Exhibitions. She has held research and curatorial positions in the Department of Modern and Contemporary Art at the Art Institute of Chicago and at the Eli and Edythe Broad Art Museum at Michigan State University. Most recently, she co-curated the exhibition Traduttore, Traditore at Gallery 400, which explored translation beyond it linguistic meaning. Rivera is currently a PhD candidate at the University of Illinois at Chicago, where her research focusses on the work of Mexican conceptual artist and mail art pioneer Felipe Ehrenberg.
Karen Greenwalt is an art historian whose research focuses on global contemporary art, with an emphasis on the contemporary art of Pakistan. Her current research project, Islamic Art in an Age of Global Conflict, engages with and problematizes contemporary framings of the Islamic. Greenwalt is currently Assistant Professor of Art History at Oklahoma State University. She received her PhD at the University of Illinois at Chicago in 2020. In 2017, she co-curated Traduttore, Traditore at Gallery 400, UIC.