Art & Art History
Tomato Fight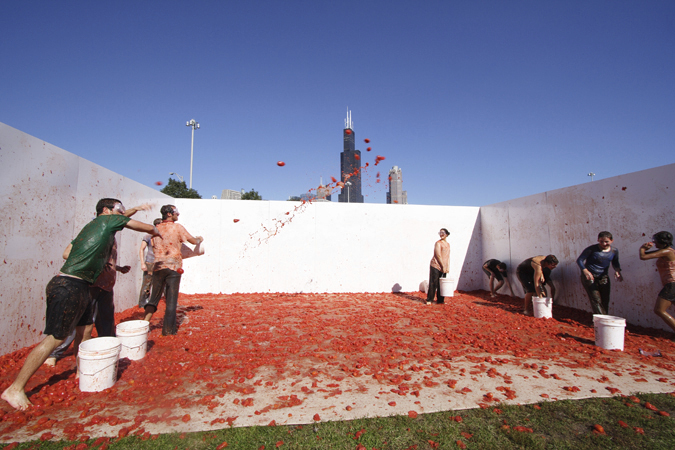 Tuesday, October 03, 2006–Saturday, November 04, 2006
Inspired by La Tomatina, a tomato festival held in Buñol, Valencia, Spain, Jeanne Dunning will stage Tomato Fight, a public event in which a cast of volunteer participants fights with massive amounts of canned tomatoes on a grassy field on the UIC campus. The fight lasts until every last tomato finds its target. The resultant spectacle is "part sports event, part Dionysian bacchanal, part food fight, and part color field painting." Beginning with the familiarity of tomatoes and ending in a messy trail of associations, ranging from college prank to grisly bloodbath, the audience in the bleachers will be treated to an eerily beautiful choreography for the duration of Tomato Fight. The exhibition is comprised of the large-scale photograph Field, which depicts the aftermath of a "Tomato Fight" staged in 2005, and a related new video work.
Gallery 400 thanks Hirzel Canning Company & Farms for a generous in-kind donation of Dei Fratelli Canned Whole Tomatoes.
Tomato Fight is presented concurrently with Drawings and Polaroids.
Related:
PRINT COLLATERAL
Postcard: Tomato Fight – Event, Reception
Poster: Tomato Flight – Artist Talk
EXHIBITION SUPPORT
Tomato Fight is supported by the College of Architecture and the Arts, University of Illinois at Chicago, and a grant from the Illinois Arts Council, a state agency.
Special thanks to the jury that selected the 2007 At the Edge
projects: Romi Crawford (Director, SAIC Visiting Artist Program), Lisa Dorin (Assistant Curator, Contemporary Art, The Art Institute of Chicago), Iñigo Manglano-Ovalle (artist), Sumakshi Singh (artist), and Lorelei Stewart (Director, Gallery 400).
ARTIST BIOGRAPHY
Jeanne Dunning's (born 1960) photographic, sculptural, and video work explores our relationship to our own physicality, looking at the strange and unfamiliar in the body, gender, and notions of normality. In investigating the human body, she raises questions about identity, sexuality, and the interior and exterior self. Since her first exhibit at Feature Gallery, Chicago in 1987, Dunning has had many shows in both the United States and Europe, including solo exhibitions at Museum of Contemporary Art, Chicago; James Harris Gallery, Seattle; and Feigen Contemporary, New York. Her group exhibitions include the Musée d 'Art Contemporain de Bordeaux, France; Museum of Modern Art, New York; Tenth Biennale of Sydney; and the Whitney Biennial. Dunning 's works are included in the permanent collections of The Art Institute of Chicago; Milwaukee Art Museum; and Museum of Contemporary Art, Los Angeles. She lives and works in Chicago and her work was recently seen in a mid-career retrospective at the Chicago Cultural Center, organized and presented by Berkeley Art Museum. Jeanne Dunning received a BA from Oberlin College in 1982 and an MFA from School of the Art Institute of Chicago in 1985.
MEDIA COVERAGE
"Ready, Aim—Fire the Goopy Tomatoes." Chicago Tribune, Oct. 2, 2006.
Weinberg, Lauren. "You Say Tomato . . . " TimeOut Chicago, Oct. 5–11, 2006, p. 68.
EXHIBITION CHECKLIST
Jeanne Dunning

The Field, 2005
C-prints mounted on Plexiglas, 99 x 255 in.
Tomato Fight, 2006
Participatory performance
Tomato Fight, 2006
Video