Art & Art History
The Inauguration of the Consulate General for the Kingdoms of Elgaland-Vargaland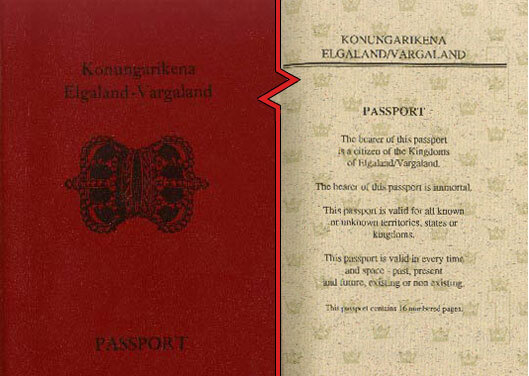 Tuesday, November 27, 2007–Saturday, January 19, 2008
Location:
Gallery 400
400 South Peoria Street, Chicago, IL 60607
Leif Elggren and Carl Michael von Hausswolff
Established in 1992 by Stockholm-based artists/musicians Leif Elggren and Carl Michael von Hausswolff, who decried themselves the benevolent kings, the Kingdoms of Elgaland-Vargaland were declared to encompass all border territories, including the digital, geographical, and mental. Passports, stamps, flags, national anthems, ministries, embassies and more have been created under the direction of Kings Elggren and von Hausswolff since the constitution was written in 1992. Elgaland-Vargaland is an extended series of objects and performances concerning territorial ownership, the right to rule and the rights of individuals. In the exhibition The Inauguration of the Consulate General for the Kingdoms of Elgaland-Vargaland, Gallery 400 becomes a general consulate for the Kingdoms with a display of printed materials representing the Kingdoms on view.
In their own words: "Elgaland-Vargaland is the largest and most populous realm on Earth, incorporating all boundaries between other nations as well as Digital Territory and other states of existence. Every time you travel somewhere, and every time you enter another form, such as the dream state, you visit Elgaland-Vargaland."
Both together and individually, Elggren and von Hausswolff have exhibited and performed extensively over the years, including projects at Documenta X, Nuit Blanche in Paris, the Johannesburg Biennial and multiple events during the last three Venice Biennales. In 1995, Elggren, together with artist Kent Tankred, formed the experimental music label Firework Edition Records, an offshoot of Firework Edition, an art edition publishing company begun in 1982 by Elggren and artist Thomas Liljenberg. A respected electronic musician, von Hausswolff won a digital music award from Prix Ars Electronica (2002) and has released recordings on the labels 23Five, Die Stadt, Laton, Oral, Raster-Noton, Sub Rosa, among others. The music label Ash International has released all audio recordings of the Kingdoms of Elgaland-Vargaland.
This exhibition is presented in conjunction with the city-wide Festival of Maps, a celebration of humanity's greatest discoveries and the maps that record our boldest explorations.
The Inauguration of the Consulate General for the Kingdoms of Elgaland-Vargaland is presented concurrently with An Atlas.