Art & Art History
The File Room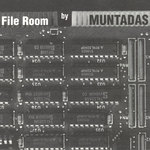 Tuesday, April 26, 1994–Wednesday, April 27, 1994
Location:
Gallery 400
400 South Peoria Street
The File Room is a public information archive utilizing contemporary communication technology to address censorship. This multimedia, computer-based archive of cases of cultural censorship will be installed at the Chicago Cultural Center as a public artwork and will also be accessible electronically via the internet beginning in May 1994.
The project was initiated by Muntadas and produced by Randolph Street Gallery in collaboration with the School of Art and Design of the University of Illinois at Chicago and the Chicago Cultural Center, with the financial support of the National Endowment for the Arts and other support from a network of individuals and organizations including Northwestern University, the School of the Art Institute, the Banff Center for the Arts, the Chicago Artists Coalition and many others.
This event is a program of REACH: REalizing Artistic CHoices, which is funded through the Polk Bros. Foundation and the School of Art and Design; additional support was provided by Gallery 400, the College of Architecture, Art, and Urban Planning, and the National Endowment for the Arts, a federal agency.