Art & Art History
Special Series in Painting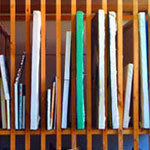 Thursday, March 29, 2012–Tuesday, April 17, 2012
Location:
Gallery 400 Lecture Room
400 South Peoria Street
Matthew Metzger 

Thursday, March 29, 6pm
Matthew Metzger uses painting as a conceptual device to inscribe a sense of critical self-reflection within the viewer on the subjects of space, physical potential, and abstraction. Metzger has had solo shows at DOVA Temporary at the University of Chicago and the Museum of Contemporary Art, Chicago. His work has been featured in group exhibitions at Columbia College, Chicago; Gallery 400, Chicago; the Smart Museum of Art, Chicago; and the Thompson Gallery, The Cambridge School of Weston, MA. Metzger attended the Skowhegan School of Painting and Sculpture. He received a BFA from the University of North Texas and an MFA from the University of Chicago.
Mike Cloud
Monday, April 2, 6pm
Mike Cloud lives and works in Chicago. In his paintings, Cloud seeks to reexamine artistic traditions of beauty and ugliness, playfulness and skill. He has exhibited his work at MoMA/PS1, The Studio Museum in Harlem, Apex Art, and White Columns (all New York). His work has been reviewed in the New York Times and Art Review Magazine and is featured in Painting Abstraction: New Elements in Abstract Painting by Bob Nickas (Phaidon Press) and A World of Art by Henry Sayre (Pearson Press). Cloud received a BFA from the University of Illinois at Chicago and an MFA from Yale University.
Laylah Ali
Thursday, April 5, 6pm
Laylah Ali s paintings resemble comic-book serials, but they also contain stylistic references to hieroglyphics and American folk-art traditions. Although Ali s interest in representations of socio-political issues and current events drives her work, her finished paintings rarely reveal specific references. Ali has had solo exhibitions at the Museum of Modern Art, New York; the Institute of Contemporary Art, Boston; the Museum of Contemporary Art, Chicago; the Contemporary Art Museum, St. Louis; and the Massachusetts Museum of Contemporary Art, North Adams, among others. Her work was exhibited at the 2003 Venice Biennale and the 2004 Whitney Biennial. She received a BA from Williams College and an MFA from Washington University in St. Louis.
Andreas Fischer
Monday, April 16, 6pm
Andreas Fischer is a Chicago-based painter whose work proposes a critical engagement with the "paint marks" of early modernism in relation to contemporary issues of representation. He was awarded an Artadia artist grant in 2004. His most recent solo exhibitions were held at the Gahlberg Gallery, College of DuPage, Glen Ellyn, IL; and the Hyde Park Art Center, Chicago. His work will be featured in a pair of two-person exhibitions in San Francisco in April 2012. Fischer received a BA from the University of Indianapolis, a BFA from the School of the Art Institute of Chicago, an MFA and an MA in Art History from the University of Illinois at Chicago, and studied at the Universit t der K nste Berlin.