Art & Art History
Special Series in Museum and Exhibition Studies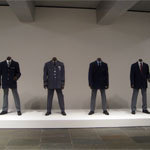 Tuesday, April 24, 2012–Friday, May 04, 2012
Location:
Gallery 400 Lecture Room
400 South Peoria Street
Rhoda Rosen
"Socially Engaged and Intellectually Vibrant: Museum and Exhibition Studies at UIC"
Tuesday, April 24, 5pm
Rhoda Rosen is a museum professional and educator based in Chicago. Her research focuses on contemporary cartography in art, addressing ethical questions of current public discourse concerning national borders. She was the Director of the Spertus Museum from 2001 to 2009 and previously served as Director of the University of Illinois at Chicago s Humanities Library and Acting Curator at Northwestern University s Block Gallery. She teaches at the School of the Art Institute of Chicago and has delivered guest lectures at Columbia College Chicago, New York University, the University of Southern California, and the Jewish Museum, New York. Rosen received a BA and MA in Art History from the University of the Witwatersrand (Johannesburg, South Africa) and a PhD in History from the University of Illinois at Chicago.
Paul O Neill
Curating as Research: The Exhibition-as-Medium, The Exhibition-as-Form
Thursday, April 26, 2:30pm
A curator, educator, and writer based in the UK, Dr. Paul O Neill has curated over fifty exhibitions, including: Our Day Will Come: A free-school art project (2011), We are Grammar (2011), and Coalesce: Happenstance (2009). Currently an International Research Fellow with Dublin s Graduate School of Creative Arts and Media, he also teaches at Appel Curatorial Programme and Goldsmiths, London. O Neill edited the anthology Curating Subjects (2007) and is co-editor of Curating and the Educational Turn (de Appel and Open Editions, 2010) and Locating the Producers: Durational Approaches to Public Art (Valiz, 2011). His upcoming book The Culture of Curating, The Curating of Culture(s) is due from MIT Press in fall 2012. O Neill received a BA from the National College of Art and Design, Dublin and a PhD in Visual Culture from Middlesex University, London.
Joy Bivins  
The Pleasure Principle: Exploring the Power of Pleasure in Visitor Experiences  
Thursday, May 3, 5pm
Joy Bivins is a curator at the Chicago History Museum, where she has curated exhibitions focusing on African American cultural history in Chicago such as Chicago History in Pictures (2002), Teen Chicago (2004), and Colonia to Community: The Southeast Side (2006). Her most recent project, the permanent exhibition Facing Freedom, examines conflicts over meanings of freedom in US History. Bivins has presented at annual meetings of the American Association of Museums and the Association of African American Museums and contributed to the Journal of American History and Chicago History magazine. She has taught at the School of the Art Institute and the University of Illinois at Chicago. Bivins received a BA in History and Afro-American and African Studies from the University of Michigan and an MPS in Africana Studies from Cornell University.
Therese Quinn
Turning on the Public: The Pedagogical Possibilities of Museums
Friday, May 4, 5pm
Therese Quinn is Chair and Associate Professor of Art Education at the School of the Art Institute of Chicago. Broadly interested in social justice, her research has focused on experiences of non-dominant group users of mainstream museums, the impact of policy on access to the arts, and social justice pedagogy. Quinn is a co-editor of Teachers College Press Series, Teaching for Social Justice, and a co-founder of the group Chicagoland Researchers and Advocates for Transformative Education. Recent books include Art and Social Justice Education: Culture as Commons (Routledge, 2012), Sexualities in Education: A Reader (Peter Lang, 2012), and Teaching Toward Democracy (Paradigm, 2010). Quinn received a BFA from the School of the Art Institute of Chicago and a PhD in Curriculum Studies from the University of Illinois at Chicago.