Art & Art History
Soup on the Move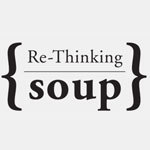 Tuesday, April 10, 2012
Location:
Gallery 400 Lecture Room
400 South Peoria Street
Join the Jane Addams Hull-House Museum and Gallery 400 for "Soup on the Move" with Theaster Gates in a conversation about art, environmental justice, and communities of color.
Chicago visual artist and activist Theaster Gates will discuss his practice and a recent collaboration with Oakland-based spoken word and dance artist Marc Bamuthi Joseph called red, black and GREEN: a blues. This multimedia performance and visual installation addresses environmental issues from the perspective of communities of color and will be shown at the Museum of Contemporary Art Chicago April 12-14. Directed by Michael John Garc s, Joseph is joined on stage by Gates, dancer/actor Traci Tolmaire, and musician Tommy Shepherd.
Theaster Gates is an artist and cultural planner. In his performances, installations, and urban interventions, Gates transforms spaces, institutions, traditions, and perceptions. Gates' training as an urban planner and sculptor, and subsequent time spent studying clay, has given him keen awareness of the poetics of production. When Gates is not making art for museums, he is committed to the restoration of poor neighborhoods, converting abandoned buildings into cultural spaces that allow not only new cultural moments to happen in unexpected places, but also raise the city's expectations of where "place-making" happens and why.
About red, black and GREEN: a blues

Bamuthi conducted field research for red, black and GREEN: a blues over several years, with interviews and community events, including in 2009 while performing the break/s at MCA Stage. The stage is set as an installation, open for public viewing during museum hours. The audience moves through the stage set before taking their seats.
In conceiving of red, black and GREEN: a blues, Bamuthi utilized a dynamic research-to-performance methodology that yielded community input as artistic resource material; specifically, the voices of people often left out of discussions about "living green." This research took place through Life is Living, a series of community eco-festivals in urban parks nationwide featuring art, activism, and education. Interviews, poems, films, and murals from Life is Living were translated into text, choreography, and imagery that express the challenge of living green where violent crime and poor education pose a more imminent danger than ecological crisis. Set into a malleable stage installation of repurposed building materials and clay objects designed by Gates, the poetry and performance in red, black and GREEN: a blues puts forward the idea that valuing your own life, and the life of your community, is the first step to valuing planet Earth.