Art & Art History
Screenings: Art 21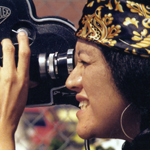 Wednesday, October 01, 2014–Thursday, November 06, 2014
Location:
Gallery 400
400 South Peoria Street
Gallery 400 is proud to be a program partner for ART21's Access '14, a global initiative bringing unprecedented public access to the work and words of contemporary artists through free film screenings. Providing unique access to some of the most compelling artists of our time, the new season of ART21 features a dozen artists from the United States, Europe, and Latin America who reveal how art can inspire and transform lives and communities. In locations as diverse as a Bronx public housing project, a military testing facility in the Nevada desert, a jazz festival in Sweden, and an activist neighborhood in Mexico, the artists reveal intimate and personal insights into their lives and creative processes. 
In order to make these events relevant to conversations happening in classrooms and communities right here in Chicago, Gallery 400 has lined up four incredible Chicago-based artists to be official artist-respondents for each episode. The artists will make a short presentation relating the theme of the episode to their own work before the screening. A brief conversation with the artist, led by a graduate student in UIC's Museum and Exhibition Studies program, will follow.
All screenings are free and open to the public, and will be held in the Gallery 400 Lecture Room at 6pm. Snacks will be provided.   
Schedule:
October 1  Episode 1: Investigation
Artist Respondent: Fereshteh Toosi
Student Moderator: Demecina Beehn
How do artists push beyond what they already know and readily see? Can acts of engagement and exploration be works of art in themselves? In this episode, artists use their practices as tools for personal and intellectual discovery, simultaneously documenting and producing new realities in the process.
Featuring artists: Thomas Hirschhorn, Graciela Iturbide, Leonardo Drew
October 15 Episode 2: Secrets
Artist Respondent: Deb Sokolow
Student Moderator: Nicholas Ballesteros
How do artists make the invisible visible? What hidden elements persist in their work? Is it the artist s role to reveal them, or not? In this episode, artists share some of the secrets that are intrinsic to their work.
Featuring artists: Elliott Hundley, Arlene Shechet, Trevor Paglen
November 5 Episode 3: Legacy
Artist Respondent: Faheem Majeed
Student Moderator: Sandy Guttman
Why do we break with some traditions and perpetuate others? Artists in this episode use life experiences and family heritage to explore new aesthetic terrain. 
Featuring artists: Wolfgang Laib, Tania Bruguera, Abraham Cruzvillegas
November 19 Episode 4: Fiction
Artist Respondent: Jennifer Reeder
Student Moderator: Andie Kimura
What makes a compelling story? How do artists disrupt everyday reality in the service of revealing subtler truths? This episode features artists who explore the virtues of ambiguity, mix genres, and merge aesthetic disciplines to discern not simply what stories mean, but how and why they come to have meaning.
Featuring artists: Katharina Grosse, Joan Jonas, Omer Fast