Art & Art History
Radiate: Art of the South Asian Diaspora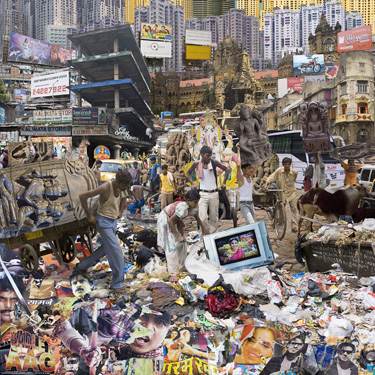 Friday, November 02, 2012–Saturday, December 15, 2012
Location:
Gallery 400
400 South Peoria Street, Chicago, IL 60607
Amina Ahmed, Shelly Bahl, Siona Benjamin, Sonia Chaudhary, Neil Chowdhury, Anjali Deshmukh, Vijay Kumar, Annu Palakunnathu Matthew, Samanta Batra Mehta, Ebenezer Sunder Singh, and Tenzin Wangchuk.
Radiate: Art of the South Asian Diaspora represents the work of eleven artists currently residing in the northeastern United States who share origins and connections in South Asia. The diversity of meaning, metaphor, and material in their work defy attempts to locate any fixed geographic or cultural "essence" of identity among these artists. Rather, multiple and mutable senses of self and history are expressed through concepts and forms that weave an abundant labyrinth of associations.
The artists featured in Radiate articulate a variety of different questions centering around their identities and experiences within the South Asian diaspora. Religion and mythology serve as particular points of inspiration, reference, and practice for Siona Benjamin, Tenzin Wangchuk, Amina Ahmed, and Ebenezer Sunder Singh. The dynamics of global politics, as well as personal experiences of displacement and migration, connection and detachment, are reflected in the work of Vijay Kumar, Sonia Chaudhary, Samanta Batra Mehta, and Neil Chowdhury. Finally, the integration of traditional and new technologies through media and metaphor is reflected in the work of Shelly Bahl, Annu Palakunnathu Matthew, and Anjali Deshmukh.
Artists of the South Asian diaspora have been a dynamic force in reframing and reshaping Asian and Euro-American art history. Whether drawing from family heritage in South Asia, the United States, or other parts of the world, these artists move between geographies, histories, and cultural practices of East and West in a way that characterizes today's globalized world.