Art & Art History
Public Hearing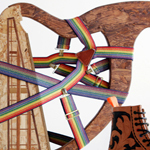 Saturday, November 10, 2012
Location:
Gallery 400 Lecture Room
400 South Peoria Street
Public Hearing presents a conversation between artists Dana DeGiulio and Carrie Schneider. The discussion will focus on intimacy and its complexities and will also explore the roles that writing, language, and gesture play in their mutual bodies of work.
Dana DeGiulio (born 1978) is a painter. She has exhibited work at Iceberg Projects, Chicago; Docasn 404, Prague; Devening Projects, Chicago; Riverside Arts Center, Riverside, IL; Carrie Secrist Gallery, Chicago; Contemporary Art Workshop, Chicago; Old Parole Board, Madison, WI; Logan Center at the University of Chicago; the Chicago Cultural Center; Bourouina Gallery, Berlin; Green Gallery, Milwaukee; Golden Gallery, New York; Darke Gallery, Houston; dok25a, Dusseldorf; Susanne Hilberry Gallery, Detroit; and Hyde Park Art Center, Chicago, among others. DeGiulio is the co-founder of Julius Caesar, an artist-run project space in Chicago. She teaches painting and drawing at the School of the Art Institute of Chicago. DeGiulio earned an MFA from the School of the Art Institute of Chicago. 
Carrie Schneider (born 1979) makes performative photographs, films, and videos. She has exhibited work in solo shows at moniquemeloche, Chicago; Museum of Contemporary Art, Chicago; Finnish Museum of Photography, Helsinki; and Pittsburgh Filmmakers Gallery. Schneider has been included in group exhibitions at Eli Ridgway Gallery, San Francisco; Chicago Cultural Center, Chicago; The Kitchen, New York; The Andy Warhol Museum, Pittsburgh; Fotogalleriet, Oslo, Norway; Kunsthal Charlottenborg, Copenhagen, Denmark; Packer Schopf Gallery, Chicago; Gallery 44, Toronto; and Skol Gallery, Montreal, among others. Schneider has been the recipient of many grants and fellowships, including the Illinois Arts Council Individual Artist Project Grant, the Joan Mitchell Foundation Residency Fellowship, and the Skowhegan School of Painting and Sculpture Sumner Rulon-Miller/SAIC Matching Fellowship, among others. Schneider currently teaches at the International Center of Photography in New York. Schneider earned a BA at Carnegie Mellon University, Pittsburgh, and an MFA at the School of the Art Institute of Chicago.
Image: Dana DeGiulio, Proposal for a Future Museum, 2012, video (still). 
Public Hearing is a series of conversations and panel discussions around contemporary art organized and moderated by Claudine Ise and Philip von Zweck.