Art & Art History
Precarity Youth Workshop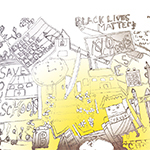 Wednesday, June 29, 2016
Location:
Gallery 400
400 S. Peoria St.
11:00am–12:30pm: Art Therapy for Chicago Public School Students, Parents, and Teachers
Led by Irene Robinson and Anna Jones
Schools have been closed, services have been cut, teachers have been fired, and there's a looming threat of worse conditions next year. Politicians blame finances, as if that's an excuse to stop taking care of children. Schools are the cornerstone of communities, and when schools close, lives change. Children and adults are invited to come together to draw images to express the impact of the CPS financial crisis. Led by education activists Irene Robinson and Anna Jones of the Dyett Hunger Strike and the "Closing Schools is a Hate Crime" campaign, the workshop will be informative and heartfelt, and will offer a place to reflect on feelings that may have no other place to go. As part of a long tradition of Chicago parents going on hunger strike to defend education, Irene and Anna are also hoping the workshop will galvanize participants to get involved in the resistance to the war on education and on kids.
12:30–1:00pm: Lunch
Pizza will be provided by Gallery 400
1:00–2:30pm: Undercommons for Kids
Led by Max Haiven
What if kids had to save the world from adults and for adults? Youngsters are invited to join social movement educator and scholar-activist Max Haiven for a series of games to awaken the radical imagination. Inspired by Stefano Harney and Fred Moten's book The Undercommons: Fugitive Planning & Black Study, we'll figure out how to liberate ourselves and our communities from debt, school, and capitalist bullying. All are welcome, but the event is geared towards humans who have not travelled around the sun more than ten times.
Click here for information about Day Two of the Precarity Youth Workshop on Saturday, July 9, 2016.
These workshops are organized by the Feminist Economics Department (the FED) as part of Mystery Hands, a project developed for kids to understand the issues of Precarity: the exhibition and the idea.