Art & Art History
Precarity Happy Hour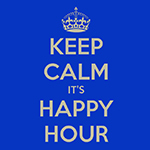 Thursday, July 14, 2016
Location:
Gallery 400
400 S. Peoria St.
All who feel the pressures of student loan debt, unstable employment, precarious labor, and the pressures of making ends meet are invited to attend Precarity Happy Hour. Over cocktails, music, conversation, and dancing to debt, artist collaborative Lucky Pierre will present creative interventions around the issues raised in the Precarity exhibition.
Attendees will also have the opportunity to enroll in Lucky Pierre Free University's reading group "The Ceiling Has Been Leaking for 23 Years: Normalizing Precarity in a Neoliberal World." Group meetings will take place on Thursday, July 21st, 6pm at Big Chicks located at 5024 N. Sheridan Road, Chicago, IL, and July 28th, 6pm at Skylark, located at 2149 S. Halsted Street. Reading group participants will receive 3 course credits toward a fully unaccredited MFA. Or, perhaps we'll just buy you a beer.
To get into the spirit of the Precarity Happy Hour, we offer two texts for discussion:
Fusco, Coco. "Debating an MFA? The Lowdown on Art School Risks and Returns" Huffington Post December 4, 2013.
Tokumitsu, Miya. "In the Name of Love" Jacobin January 2014, Issue 13.
Hard copies of the texts will be available during the happy hour.
LPFU is an ongoing collective imaginative education project working to create and learn together outside the institutionalized corporate higher education model. All are welcome.