Art & Art History
Portal: online screenings | Natalie Bookchin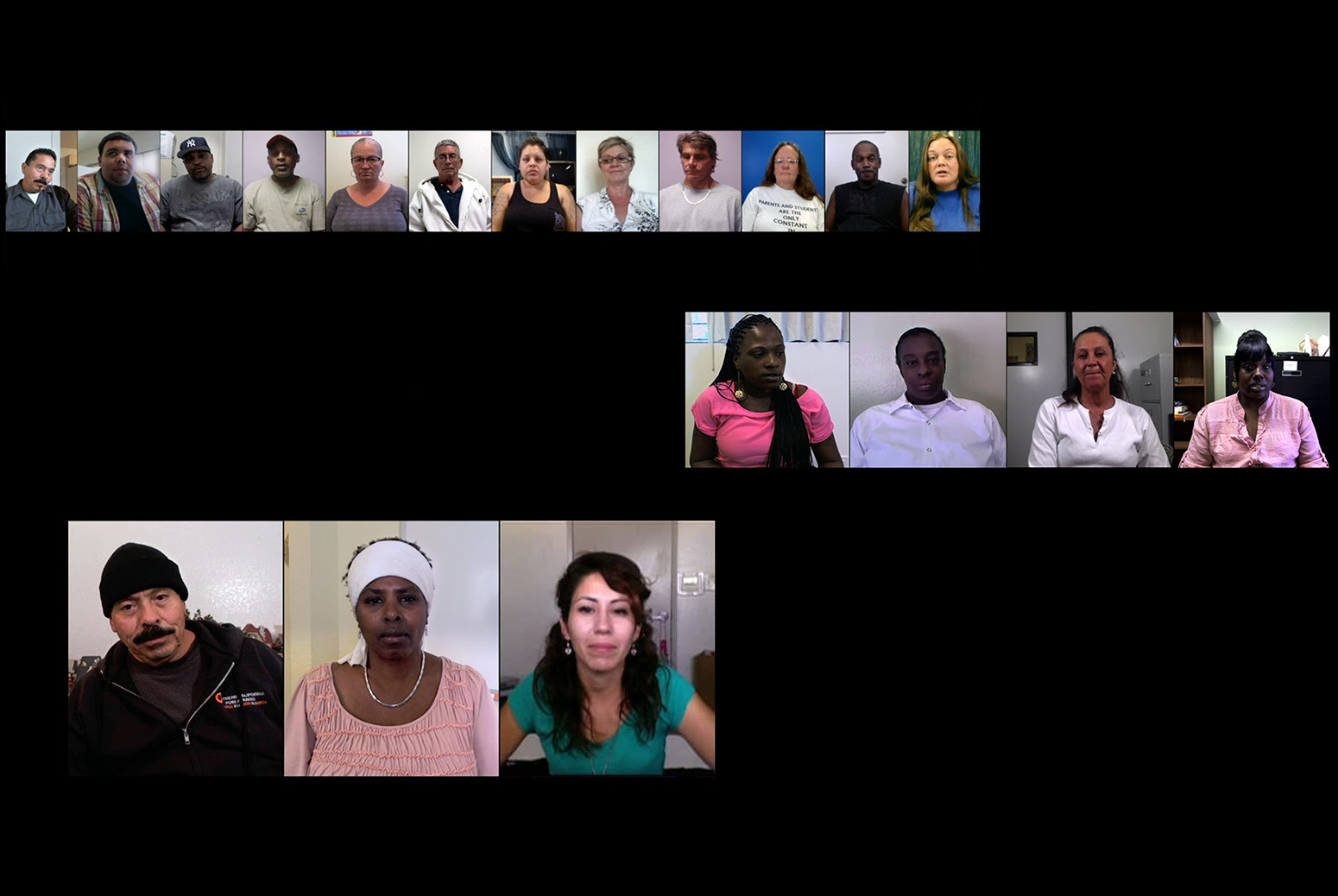 Monday, October 12, 2020–Monday, October 26, 2020
Natalie Bookchin
Long Story Short, 2016
Single-channel video, 45:29 minutes.
Courtesy the artist
During the COVID-19 stay at home period, Gallery 400 presents a series of online screenings featuring work by artists who have previously exhibited at the Gallery. Each work will stream on the Gallery 400 website for two weeks.
In 2011, I was approached by an organization called Tipping Point Community that supports non-profit groups that provide services to low-income San Francisco Bay Area residents. Someone in the organization had seen my video installation Testament and invited me to make a short film for their annual fundraising event. I had never done advocacy work before, but was intrigued by the possibility and challenge of the topic, so I accepted the invitation. We sent out a call to various organizations requesting that clients make and upload video diaries reflecting on their experiences of poverty and how they were able to overcome some of its challenges. Looking through the videos, I was struck by how powerful they were. They were frank and unapologetic and, though they used the same format, they were so different from the video diaries I had worked with in previous projects. After I completed the film, I decided I wanted to develop a larger project, to dig deeper into the topic without the constraints of an advocacy film – without having to deliver a predetermined, and necessarily uplifting, message.
From the start, I knew I wanted to make a film where those experiencing poverty were the subjects, not the objects, of the film, where they were the experts and decided what was important. I also knew I wanted to create a large archive of video narrations. How could a large archive, taken together, change or add to current understandings of poverty? What, if anything, might it reveal and uncover? How would I structure it and make it legible on a single screen? I really didn't know, but that's where I started.
Still from "Long Story Short"
Natalie Bookchin is an artist who works at the intersection of media, politics, and internet culture. Her work is exhibited and screened around the world including at MoMA, LACMA, PS1, Mass MOCA, the Pompidou Centre, MOCA LA, the Whitney Museum, the ICP Museum, and the Kitchen in NYC, and La Virreina Center for the Image, Barcelona. Bookchin collaborated extensively in the 1990s and early 2000s including as a member of the art/activist collective RTmark, and on projects with Jin Lee, Lev Manovich, Alexei Shulgin, Heath Bunting, Holly Lavenstein, Elizabeth Cohen, and others.  She is currently working on a film in collaboration with the Spanish Roma association Lacho Bají and the artist collective, LaFundició. Also in progress are a  series of video montages of mass uprisings, depicting fantastic spaces filled with colors,  signs, megaphones, gestures, and bodies, and people together, performing and enacting resistance. Bookchin attended SUNY Purchase, NY,  the School of the Art Institute of Chicago, and the Whitney Independent Study Program. She was a faculty member at CalArts in Los Angeles from 1998-2014 and is currently a Professor of Media at Rutgers University. Bookchin lives and works in Brooklyn, NY.
Natalie Bookchin exhibited at Gallery 400 as part of the 2018 show Chicago New Media 1973-1992, curated by Jon Cates with assistance from Chaz Evans and Jonathan Kinkley, and also presented at the Voices lecture series in 2017. Chicago New Media 1973-1992 chronicled the under-recognized story of Chicago's contributions to new media art by artists working at the University of Illinois at Chicago's Electronic Visualization Laboratory (UIC's EVL), School of the Art Institute of Chicago (SAIC), and at Midway Games and Bally from 1973-1992.