Art & Art History
Portal: online screenings | Guy Ben Ner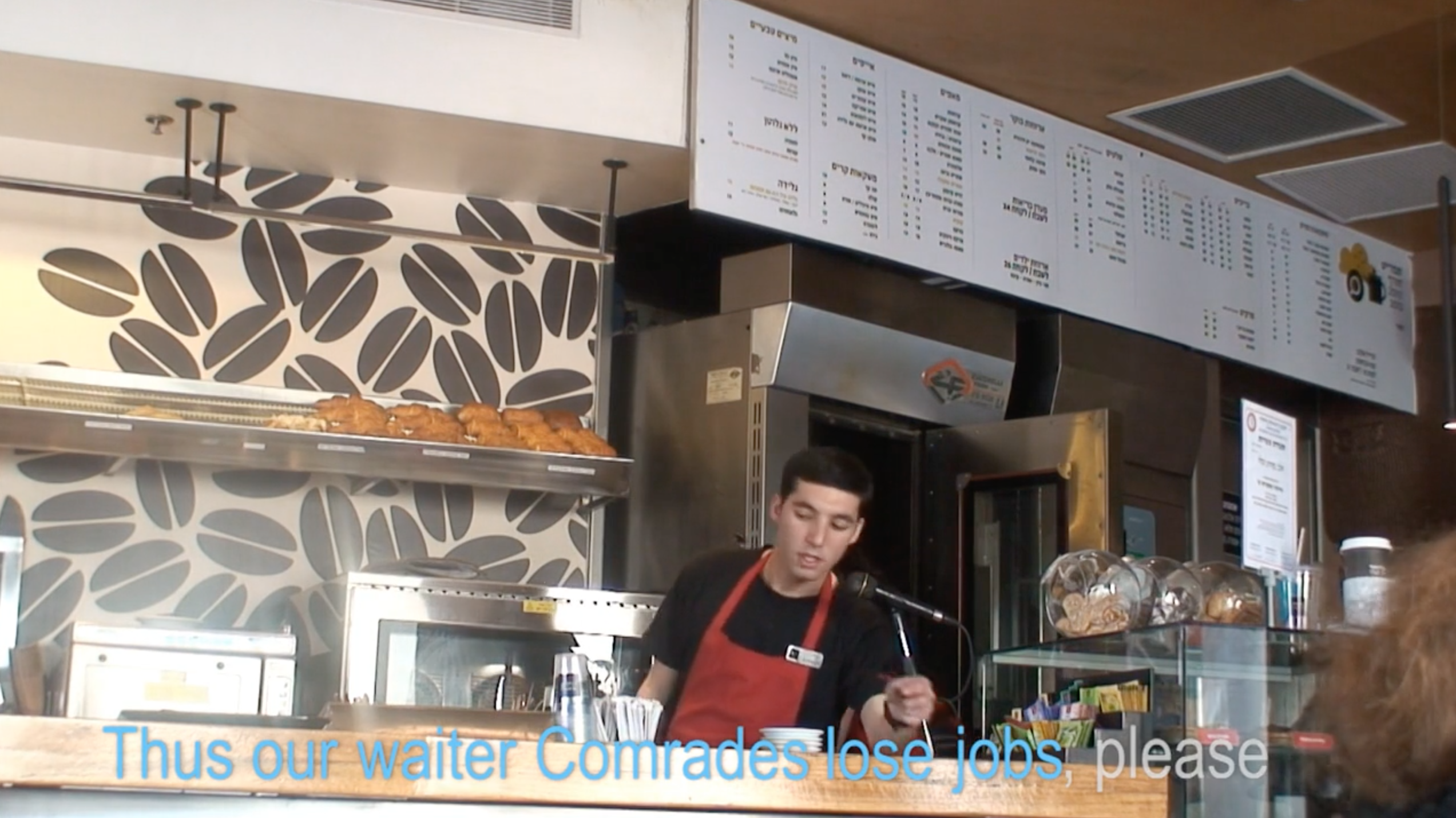 Monday, September 14, 2020–Monday, September 28, 2020
Guy Ben Ner
Foreign Names, 2012
Courtesy the artist and Aspect Ratio Projects.
During the COVID-19 stay at home period, Gallery 400 presents a series of online screenings featuring work by artists who have previously exhibited at the Gallery. Each work will stream on the Gallery 400 website for two weeks.
Foreign Names focuses on the worker displacement in a compilation of video clips from Aroma, an Israeli coffee shop chain. Ben-Ner's video shows counter staff at the coffee shops yelling nonsensical English "names," fabricated and given to them by the artist. The texts edited together become a lament of the waiters' disappearance and the state of workers today.
Internationally, a growing number of dining establishments like Aroma are replacing servers with technological devices. Often, employees face the threat of high turnover, low minimum wages, and too few hours to receive full-time benefits. Situated in a site of mass-consumption, Foreign Names highlights dehumanization and displacement created in the name of efficiency and output.
Guy Ben-Ner (b.1969, Ramat Gan, Israel) obtained a MFA from Columbia University, New York (2003) and a BA in Education from Hamidrasha School of Art (1997). In 2005 Ben-Ner represented Israel at the Venice Biennale with his video installation Treehouse Kit. Recent solo exhibitions include, At Home, VCUarts Anderson Gallery, Richmond, USA (2014); 12×12 IBB-Videolounge, Berlinische Galerie, Berlin (2012); Spies, SITE Gallery, Sheffield, UK (2011); Filme, Zeichnungen und Installationen, Kunsthalle Mainz, Mainz (2010); Thursday the 12th, Mass MoCA, North Adams, USA (2009) and Treehouse Kit, Museum of Contemporary Art, Montreal (2017). In 2008 he was awarded the Sanberg Prize by the Israel Museum. Ben-Ner currently lives and works in Tel Aviv and Berlin.
Guy Ben Ner exhibited at Gallery 400 as part of the 2014 show Here, There Everywhere, curated by Lorelei Stewart with contributions from Ionit Behar and Pınar Üner Yılmaz. A group exhibition focused on spatial configurations of economics and their related effects, Here, There, Everywhere was part of an ongoing series of exhibitions and events, Standard of Living, that explored shifts in economies and in work. Topics covered in the series included how and where economic exchange takes place, new models for sustainable economies, employment-driven migration, and relationships between place, work, and economic viability, among others.