Art & Art History
Portal: online screenings | Dread Scott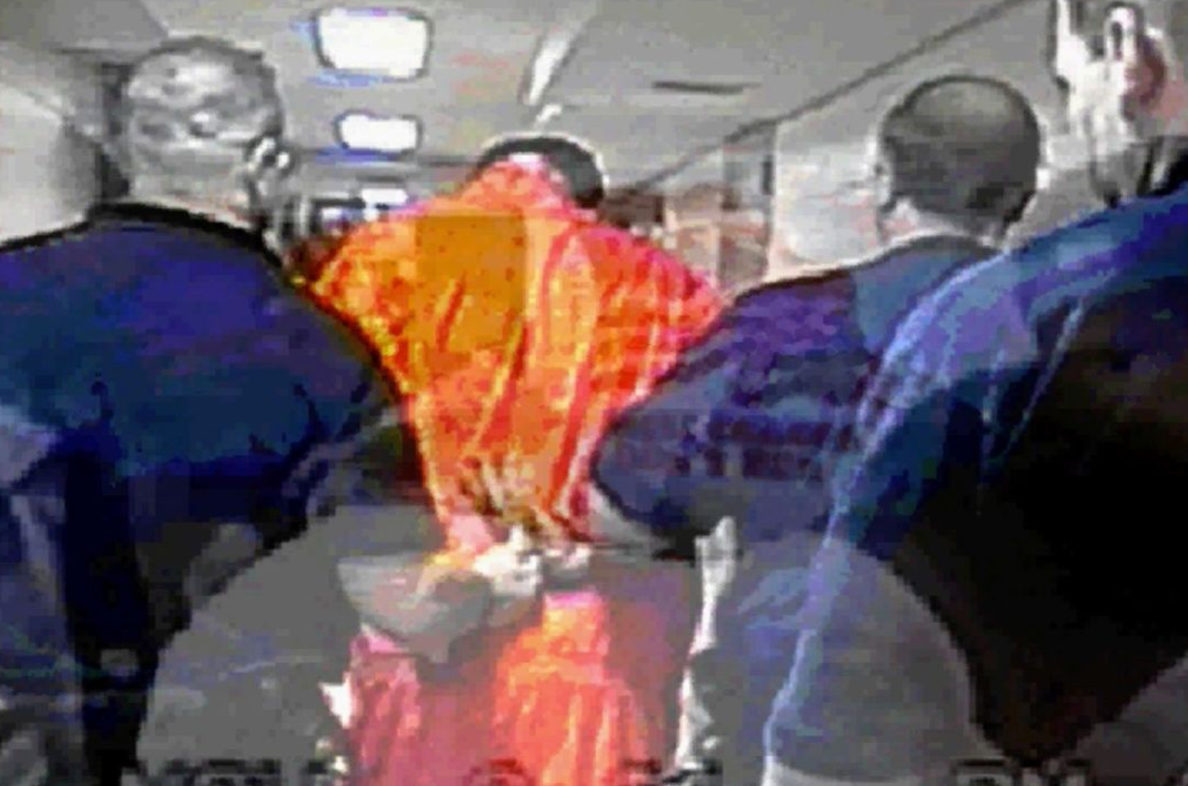 Monday, September 28, 2020–Sunday, October 11, 2020
Dread Scott
Welcome to America, 2002
Single-channel video, 5:27 minutes.
Courtesy the artist
During the COVID-19 stay at home period, Gallery 400 presents a series of online screenings featuring work by artists who have previously exhibited at the Gallery. Each work will stream on the Gallery 400 website for two weeks.
Welcome to America explores brutality against immigrants in US detention after Sept 11, 2001. Made before the revelations at Abu-Ghraib, the work uses images released by the Department of Justice showing some of the violent handling of immigrants in the Metropolitan Detention Center in Brooklyn. A child repeats some of the racist, xenophobic and threatening epithets that were shouted at the detainees as their faces were shoved into a shirt with an American flag on it. In the background is a recitation of the Pledge of Allegiance by school children.
Dread Scott works in a range of media from performance and photography to screen-printing and video and is currently based in Brooklyn. In 1989, his art became the center of a national controversy over its transgressive use of the American flag, while he was a student at the School of the Art Institute of Chicago. President G.H.W. Bush called his art "disgraceful" and the entire US Senate denounced and outlawed this work.
His work has been included in exhibitions at New York's MoMA PS1, the Walker Art Center, Minneapolis, Jack Shainman Gallery, NY, and Gallery MOMO in Cape Town, South Africa. His performances have been presented at BAM in Brooklyn and on the streets of Harlem, NY and his work is held in the collections of the Whitney Museum of American Art and the Brooklyn Museum. Dread is a recipient of a 2018 United States Artists Fellowship and grants from the Creative Capital Foundation and the Open Society Institute.
Dread Scott exhibited at Gallery 400 in the 2013 show It's the Political Economy, Stupid,  a traveling exhibition co-organized by Oliver Ressler and Gregory Sholette. It's the Political Economy, Stupid featured video, photography, installation, and drawing by artists from around the globe who critically address the "new norm" of the prolonged economic and political crisis that began in 2008. The title of the exhibition stems from James Carville's catchphrase, "It's the economy, stupid," which became closely identified with Bill Clinton in his 1992 presidential campaign.