Art & Art History
Open Studios Salon: Making It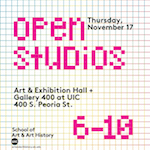 Thursday, November 17, 2016
Location:
Gallery 400
400 S Peoria
Join us at Gallery 400 for an open and frank conversation about the ways that artists make it in the world and discuss what does it mean to make it as an artist. Alums from every discipline share how they make and present work today; how they cultivate community with fellow artists; and how they forge relationships with curators, programmers, and gallerists. Enjoy conversation, drinks, and hors d'oeuvres with our extraordinary School of Art & Art History alumni.
Brandon Alvendia (MFA 2007) is a Chicago-based artist, curator, writer, publisher and educator. His interdisciplinary practice playfully engages spatial and social architectures to envision temporary utopias.
Jonathan Kinkley (Art History MA, 2008) is Executive Director and Co-Founder of the Video Game Art (VGA) Gallery and Philanthropic Advisor at The Art Institute of Chicago. Kinkley is a writer and museum professional with more than 10 years of experience working in galleries and museums across the world.
Faheem Majeed (MFA 2009) is a builder—literally and metaphorically. A resident of the South Shore neighborhood in Chicago, Majeed often looks to the material makeup of his neighborhood and surrounding areas as an entry point into larger questions around civic-mindedness, community activism, and institutional racism.
Kera MacKenzie (MFA, 2013) is an interdisciplinary artist who works with moving images, photography, sets, installations, performance and live broadcasts. She is Founding Co-Director of ACRE TV, an artist-made livestreaming tele-vision network, an educator, and a recent recipient of a UIC/UofC/SAIC Consortium Fellowship for the trans-disciplinary program Field Trip / Field Notes / Field Guide.