Art & Art History
On Sundrun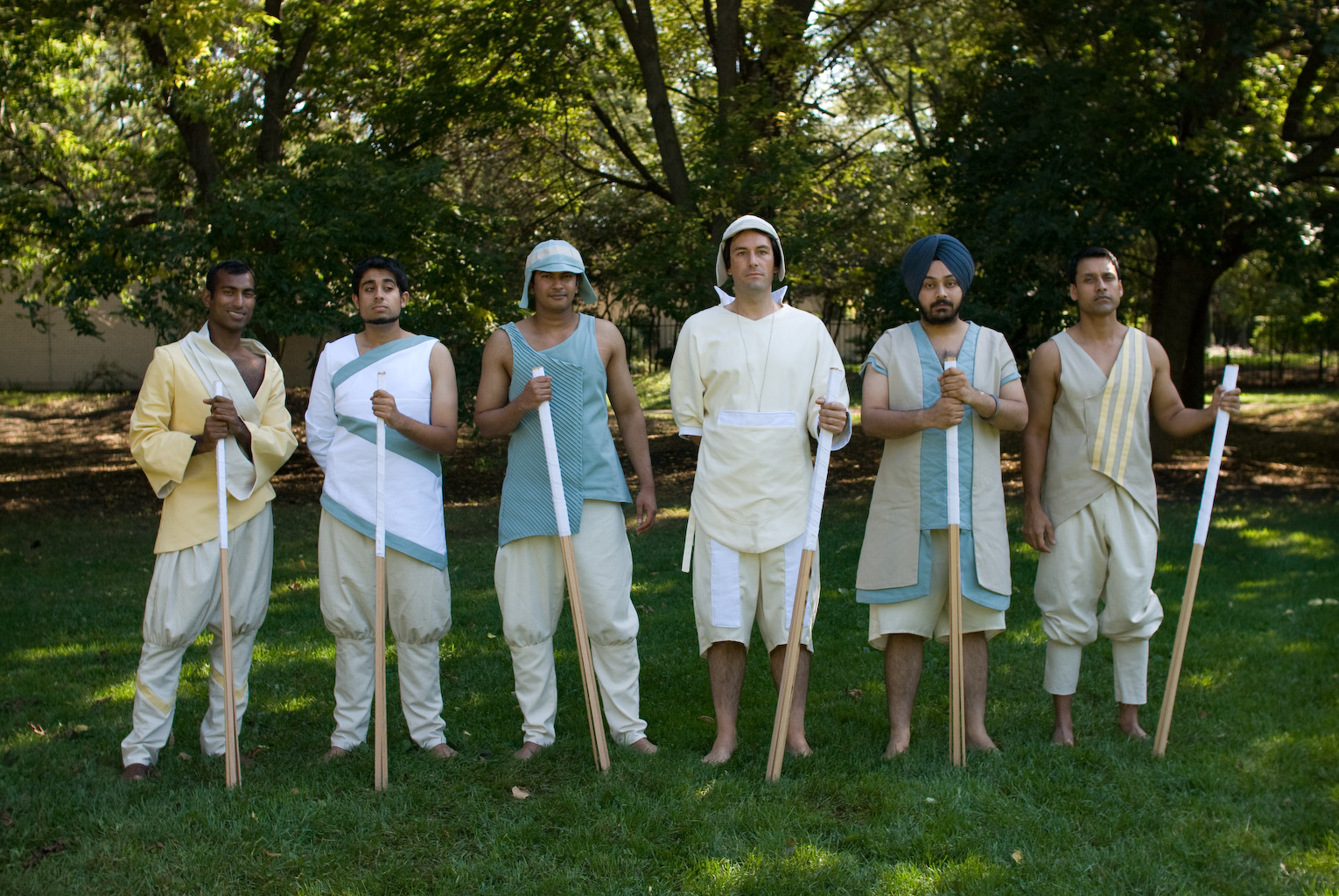 Tuesday, December 08, 2009–Saturday, January 16, 2010
Mathew Paul Jinks ' On Sundrun explores post-colonial identity as formed by rituals and memories. The exhibition, including performance, sculpture, and sound installation, centers on the title work, a feature-length video documenting the actions and dialogue between Jinks, an expatriate Englishman, and five performers of Indian and Pakistani heritage as they commence to spontaneously invent a sporting game one day in a Chicago park. Dressed in costumes provided by Jinks, the individuals devise a chaotic game that resembles something between cricket and capture the flag. Over the course of the work, between bouts of game play, rules and objectives are rewritten, and the players, in getting to know each other, discuss traditions, histories, and their current lives and locations.
"Reservation and repression are traits of the English: they acknowledge the history of their country but do not readily address it."
Emphasizing tactility over linear narrative or direct history, Jinks ' artworks approach the topics of power, control, and inheritance through a re-working of the definitions of game and sport. As Jinks himself stated, "Reservation and repression are traits of the English: they acknowledge the history of their country but do not readily address it." In the discussions among the performers in the film, this repression of history is likewise acknowledged as a presence in the immigrant experiences of the Indian and Pakistani participants. Whether a result of personal histories or a reflection of a quintessentially post-colonial tradition, the effects of transposition and assimilation are amplified in the use of sound and atmosphere throughout the works. 
In the main gallery, a large installation crafted by Jinks twisted and pulled a large practice net into a chamber for an irrational and unnamed game. During the opening reception, a choral group sang a series of liturgical and religious songs off and on for three hours in the front of the gallery. During the run of the exhibition, a live unedited audio recording of this performance was played back in the space where the singers performed. Also on display, in the very front of the gallery, were the costumes used in the filming of On Sundrun.
On Sundrun was commissioned as one of the projects in the 2009–10 At the Edge: Innovative Art in Chicago
series.
Related:
EXHIBITION SUPPORT
On Sundrun is partially supported by a Community Arts Assistance Program grant from the City of Chicago Department of Cultural Affairs; the Andy Warhol Foundation for the Visual Arts; the College of Architecture and the Arts, University of Illinois at Chicago; a grant from the Illinois Arts Council, a state agency; and the Institute of Museum and Library Services, a federal agency. Generous support for the project is provided by Fuller's Home and Hardware, and Bean Products, Inc. Many thanks to Elaine Pagels at Source One Realty and Phil Ross at the UIC Athletics Department for their contributions.
Special thanks to the jury that selected the 2009–10 At the Edge projects: Rosanne Alstatt (curator), Huey Copeland (Professor of Art History at Northwestern University), Lisa Dorin (curator), Doug Garofalo (architect), and Lorelei Stewart (Gallery 400 Director).
EXHIBITION ESSAY
Anthony Elms
With On Sundrun, Mathew Paul Jinks set out to explore post-colonial identity as formed by rituals and memories. Initially, the intent was to make a documentary series of works involving Indian and Pakistani cricket teams that compete in public parks throughout the Chicago and Midwest area. Jinks, as an expatriate Englishman, was fascinated that cricket, which he identifies as the most English of sports, exists primarily in the U.S. within Indian and Pakistani communities. However, as the project developed, he grew increasingly engaged by the space of discussion rather than the specifics of cricket clubs. The result is On Sundrun, a project that includes a large-scale sculpture, an opening night choral performance that will generate a sound work, a set of costumes, and a feature-length video.
Sport remains the base for this project. The sculpture is made from a batting cage net; in the States, we use this netting for baseball training, in the United Kingdom, they use it for cricket practice. This sculpture slinking amongst the columns of the gallery reminds not so much of cricket or baseball as of a topography or terrain. A spindly empty arena complete with 'X ' markings locating standing positions for the ones that got (or went) away. More importantly, though, the video documents an afternoon (not a happening or a performance) when Jinks gathered together five men, two Pakistanis and three Indians, divided into two teams, and slowly—with much delay—invented and played a game. All are amateurs. The game they invent is everything but coherent and stable. At start it 's one on one. Then two on two, and three on three, and then… well… "How can you change the rules in the middle of the game?" asks one of the performers amidst play.
This game may be a far cry from cricket—it resembles a bastard mash-up of capture the flag and lacrosse—but relates to cricket in one important manner: as a simple bat-and-ball game. In some studies, this type of sport is also known as a "safe haven" game. Features of safe haven games include a split between batting and fielding, with the goal to get ins and outs, correspondingly. Rather than play by the clock, play is governed by turns, with each team having equal opportunity at both roles while protecting or advancing movement between safe haven bases. As documented, with little guidance and no referees, it is hard to tell in this game who is batting and who is fielding. All told, the team comprised of the more athletic members appears to come out resoundingly victorious.
In sports, the greatest sin is to fix the results of competition. Is the fix on? The presence of Jinks on the winning team, the team that also happens to have the sharper costumes, implies yes. What would it mean to work to fix a game that is invented on the spot, and is a hodgepodge of half-considered rules and goals set into motion for the sole purpose of staging a conversation on colonialism in a post-colonial place? "Keep your flag alive," as one of the competitors says during a match, in which silent Indian and Pakistani identities churn around the silent Englishman at the pivot point.
Sorting through this question, the formal qualities of Jinks ' working methods lead the way. As in his past works, technologies stand in for, or take over, flesh and bone. Tailoring emphasizes stylization over individual stance. Sound equipment stands in place of performers. Subtitles recast rambling catch-as-catch-can discussion as quixotic, nonlinear text.
For most of the 95 minutes of the video, nobody has a voice. Brief introductory chitchat is visible, the players casually change from street clothes and don their custom outfits one by one. The patchwork subtitles unmoor speakers and their spoken words, fragmenting already fragmentary exchange. The sporadic sounds retained are a starting whistle, followed by the whooping and chikita chikita, clap, slap, chop of masculine competition. Restoring diegetic sound for the length of the video might allow trains of thought to be navigated, it might also reveal that nothing particularly revealing or earth shaking is divulged through the conversations. The tactility, rather than the content, of exchange is what Jinks emphasizes. Why?
Through silence, the steady-cam guides. It approaches the players, stops too close to document events objectively, then steps back into another space, catches frustrating glimpses of any number of details. And steps forward again, jittery, unable to find a viewpoint of privilege. Displaced and frustrated, the restless camera is an outsider trying to get in, cloyingly. For guidance, the camera often returns to Jinks. It captures Jinks listening with a dutiful veneer of concentration on his face.
Among the works in the gallery the sound work does not relate to sport, but establishes the presence of a third space as the most persistent voicing in the gallery. A one-time a cappella opening night performance of liturgical compositions is captured in total—ambient crowd noise, readying interjections, everything. The displaced interruption of the occasional sporting sounds of the combined Indian, Pakistani, and British masculinities in the video reveals less about the Indians or Pakistanis than it does about Jinks. In conversation, Jinks remarked, "Reservation and repression are traits of the English: they acknowledge the history of their country but do not readily address it." The Pakistani and Indian participants report that parents and grandparents do not discuss the colonial past. Is repression an equal presence for the Pakistanis and Indians? Possibly. What can be asserted with certainty is the location of the United States combined with the technological hollowing out of distinct identities that offers Jinks a "safe haven" to listen beyond assumptions; the overreaching silence of the video becomes his absent address. On Sundrun exists as an elaborate soundspace in which Jinks works to "keep his flag alive" in his adopted homeland.
The space of inheritance can be quite resistant to representation. Inheritance is a commitment rather than a form. Jinks assembled the pieces of On Sundrun to find ties to a past analogous to his own. Instead he found incongruous fragments. Where now? In the essay "Prevision: Should the Future Help the Past?", Liam Gillick writes "as I have pointed out before, those who think about the future affect the future as much as thinking about the past changes what has already taken place." I 've taken this statement grossly out of its context because it shares that thinking and discussing, both future and past, are of equal importance and equally transformative. What is more, there is the subtle implication that it is important to work in both temporal directions at once. It is the delay, the off-centered balance, the typecasting and splits, at which past and future happen simultaneously, that will determine where the present is. It is to this end that Jinks replaces bodies with technologies. Maybe the Indians and Pakistanis need not discuss the colonial past; the fact that Indian and Pakistani teams with some regularity beat the Brits at cricket is all they need to say. Jinks, in his post-colonial silence, can 't stop looking backward, his assembled players look forward to future matches. Technologically speaking, it 's their game now.
****
Anthony Elms, On Sundrun: Mathew Paul Jinks, December, 2009.
This essay was distributed in the gallery during the run of the exhibition.
PRINT COLLATERAL
Postcard: On Sundrun
MEDIA COVERAGE
Epstein, Ian. "Mathew Paul Jinks/Gallery 400." newcity.com, Dec. 14, 2009.
Gillespie, Jen. "Mathew Paul Jinks: On Sundun." badatsports.com, Dec. 7, 2009.
Gossett, Stephen. "Eye Exam: Perverted Tactics." flavorpill.com, Dec. 2009.
"Mathew Paul Jinks: On Sundrun." thevisualist.org, Dec. 9, 2009.
Roulo, Robyn Farrell. "The Rules of the Game." artslant.com, Jan. 8, 2010.
"Slowdown (Events Listing): Mathew Paul Jinks." gapersblock.com, Dec. 9, 2009.
Weinberg, Lauren. "Game Theory." TimeOut Chicago, Dec. 17, 2009.
EXHIBITION CHECKLIST
Mathew Paul Jinks

On Sundrun, 2009
batting nets, HD video installation, costumes and changing space, choral performance followed by sound installation
Costume design and production: Sarah Newman
Location co-production and still photography: Brita Pagels
Director of photography, steady-cam operator and sound: Warren Cockerham
Video participants: Amjad Akhtar, Anand Bhat, Mathew Paul Jinks, Adil Mansoor, Parveer Singh, Vamsi Vasireddy
A cappella performance: My Damn Butterfly
ARTIST BIOGRAPHY
Mathew Paul Jinks (b. 1971, Ipswich, United Kingdom) is an English immigrant, living, teaching and working in Chicago, Illinois. Whilst currently living and working in Chicago, Mathew teaches locally at School of the Art Institute of Chicago and DePaul University. Mathew frequently collaborates with fellow artists, notably working for Omer Fast's production of Looking Pretty for God (2008), and more recently, with Theaster Gates's choir performance at Milwaukee Museum of Art. He also records and produces sound for moving image, working often with local filmmaker Melika Bass and recently for Mark Jeffery's performance group Every House Has A Door. Mathew is currently working on a new body of work entitled Trauma Narratives: Relocated that incorporates performance and sculptural works adapted from collected narratives of the histories of pre-diasporic immigrants in Illinois. Mathew Paul Jinks completed his undergraduate degree at Glasgow School of Art, Scotland in 2005, studying Fine Art Photography. Then, after emigrating to the United States, he completed an MFA at the University of Illinois at Chicago in Studio Arts in 2008.