Art & Art History
Nice Work If You Can Get It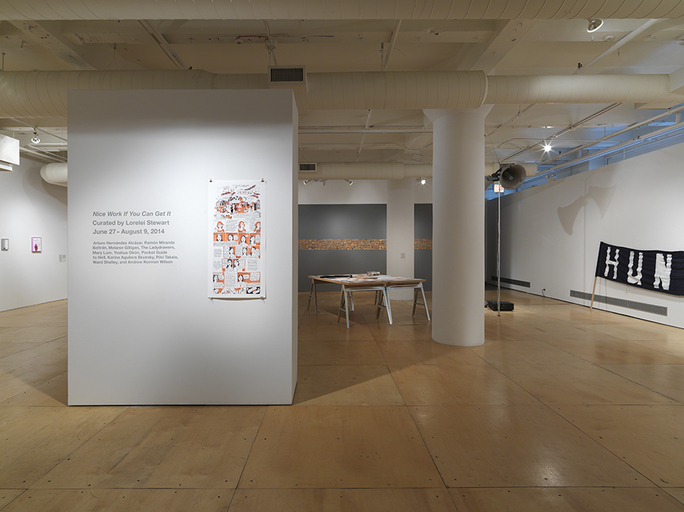 Friday, June 27, 2014–Saturday, August 09, 2014
Location:
Gallery 400
400 South Peoria Street, Chicago, IL 60607
Arturo Hernández Alcázar, Ramón Miranda Beltrán, Melanie Gilligan, The Ladydrawers, Mary Lum, Yoshua Okón, Pocket Guide to Hell, Karina Aguilera Skvirsky, Pilvi Takala, Ward Shelley, and Andrew Norman Wilson.
Through a variety of media and approaches, the artists in Nice Work If You Can Get It address the vital pocketbook issue of how citizens sustain themselves in today's global economy. In the wake of the 2008 financial crisis, seismic shifts in our economic realities have forever changed our relationships with traditional concepts of labor, equity, and exchange. Believing in the potency of the arts and humanities to illuminate civic issues in our communities, Gallery 400 brings together eleven artists that investigate this changing landscape of labor. Exploring the legacies of industry, immaterial labor, service work, invisible labor, and more, the artists featured in the exhibition articulate a variety of responses to the relationships between labor, economy, and politics.
Nice Work If You Can Get It is part of an ongoing series of exhibitions that explore shifts in industry and work, how and where the economic exchange takes place, new models for sustainable economies, employment-driven migration, and relationships between place, work, and economic viability. A key component of this series is community involvement. Developed through partnerships with community organizations, labor unions, and artists, the relationships and dialogues with these groups will help guide forthcoming exhibitions and events.