Art & Art History
Matthew McCaslin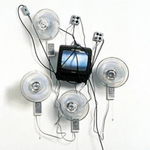 Thursday, November 17, 1994–Friday, November 18, 1994
Location:
Gallery 400
400 South Peoria Street
In his work, New York based artist Matthew McCaslin (born 1957) deals with the intersection of nature and technology, combining everyday construction materials or consumer electronics in a way that may invoke chaos or disorder, or formalism and minimalism.
McCaslin has an upcoming solo exhibition at Feigen, Inc., Chicago, and he has exhibited extensively across the United States at Postmasters Gallery, New York; the Museum of Modern Art, New York;  Daniel Weinberg Gallery, Los Angeles; Daniel Newburg Gallery, New York; Bess Cutler Gallery, New York; among many others, as well as internationally at Anthony Reynolds Gallery, London; Galerie Jennifer Flay, Paris; Art and Public, Geneva; Rolf Ricke Gallery, Cologne; Le Consortium, Centre d'Art Contemporain, Dijon; Galerie Rodolphe Janssen, Brussels; Gallery Jurgen Becker, Hamburg; and Chisenhale Gallery, London.
McCaslin earned a BFA from Parsons School of Design, New York.