Design
Master of Design: Information Session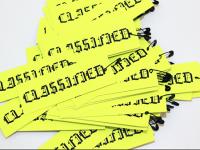 Wednesday, January 16, 2019
The UIC School of Design invites graduate applications for the fall of 2019.
Our MDes programs in graphic and industrial design prepare future leaders for the expanding field of design. From systems and services to objects and communications, UIC offers aspiring designers an opportunity to develop creative abilities at Chicago, one of the world's most vibrant cities.
If you are interested in visiting the UIC School of Design to learn more about the Master of Design programs, please complete the online form to confirm your attendance. 
Applications are due February 1, 2019.
Image: Classified, from the Graduate Thesis show of Jess Quattrini, UIC MDes Graphic Design, 2018.