Art & Art History
Make Room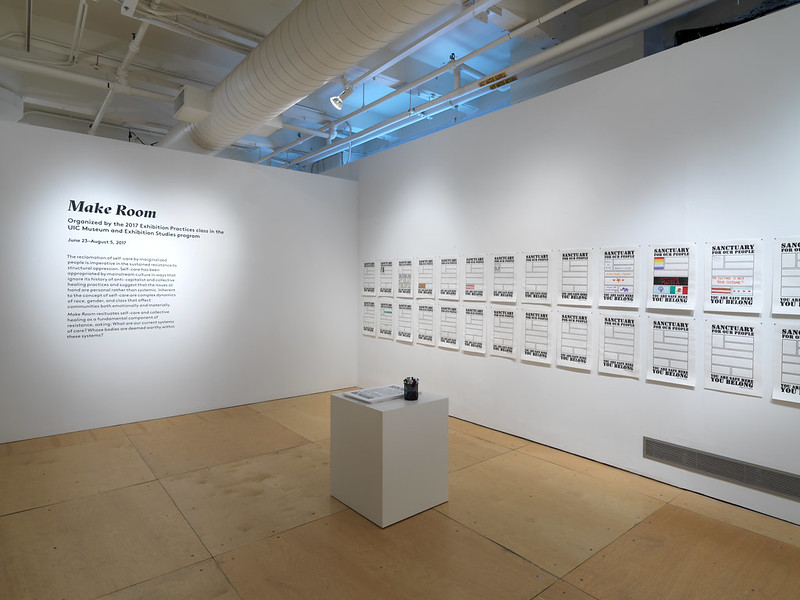 Friday, June 23, 2017–Saturday, August 05, 2017
Location:
Gallery 400
400 South Peoria Street, Chicago, IL 60607
Chicago ACT Collective, NIC Kay, AJ McClenon, Rhonda Wheatley, and more.
Developed and organized by the 2017 Exhibition Practices class in the UIC Museum and Exhibition Studies program, Make Room re-situates self-care and collective healing as a fundamental component of resistance, asking: What are our current systems of care? Which bodies are deemed worthy within these systems? The reclamation of self-care by marginalized people is imperative in the sustained resistance to structural oppression. Self-care has been appropriated by mainstream culture in ways that ignore its history of anti-capitalist and collective healing practices. Popular forms of self-care provide temporary solutions and suggest that the issues are personal rather than systemic. Inherent to the concept of self-care are complex dynamics of race, gender, and class that affect communities both emotionally and materially.
Projects in the exhibition include NIC Kay's GET WELL SOON!, an interdisciplinary project based on a loose and often used phrase indicating a hope of recovery. GWS is an interruption, a memorial, a wake, and a meditation on reparations that contemplates what black diasporic collective healing looks, feels, and sounds like. Rhonda Wheatley creates an installation that provides a comfortable space infused with healing energy where visitors may sit, reflect, and write using journaling prompts provided by the artist. Chicago ACT Collective displays its screen-printed Sanctuary poster alongside blank versions of the posters, which visitors can fill in in ways that reflect their ideas of the sanctuary. Seeking to deepen and solidify the meaning and actions that constitute building and defending sanctuaries, the Collective is developing a zine, workshops, and training that support the message of the poster.
Make Room and Black Light are complementary exhibitions focusing on resistance, resilience, and self-reliance in the face of 21st-century racism. Created largely as sites for performances, actions, and events, the shows use the exhibition site as a catalyst for change.