Art & Art History
Lise Haller Baggesen: Museums of Future Past Times Present: Hatorade Retrograde The Musical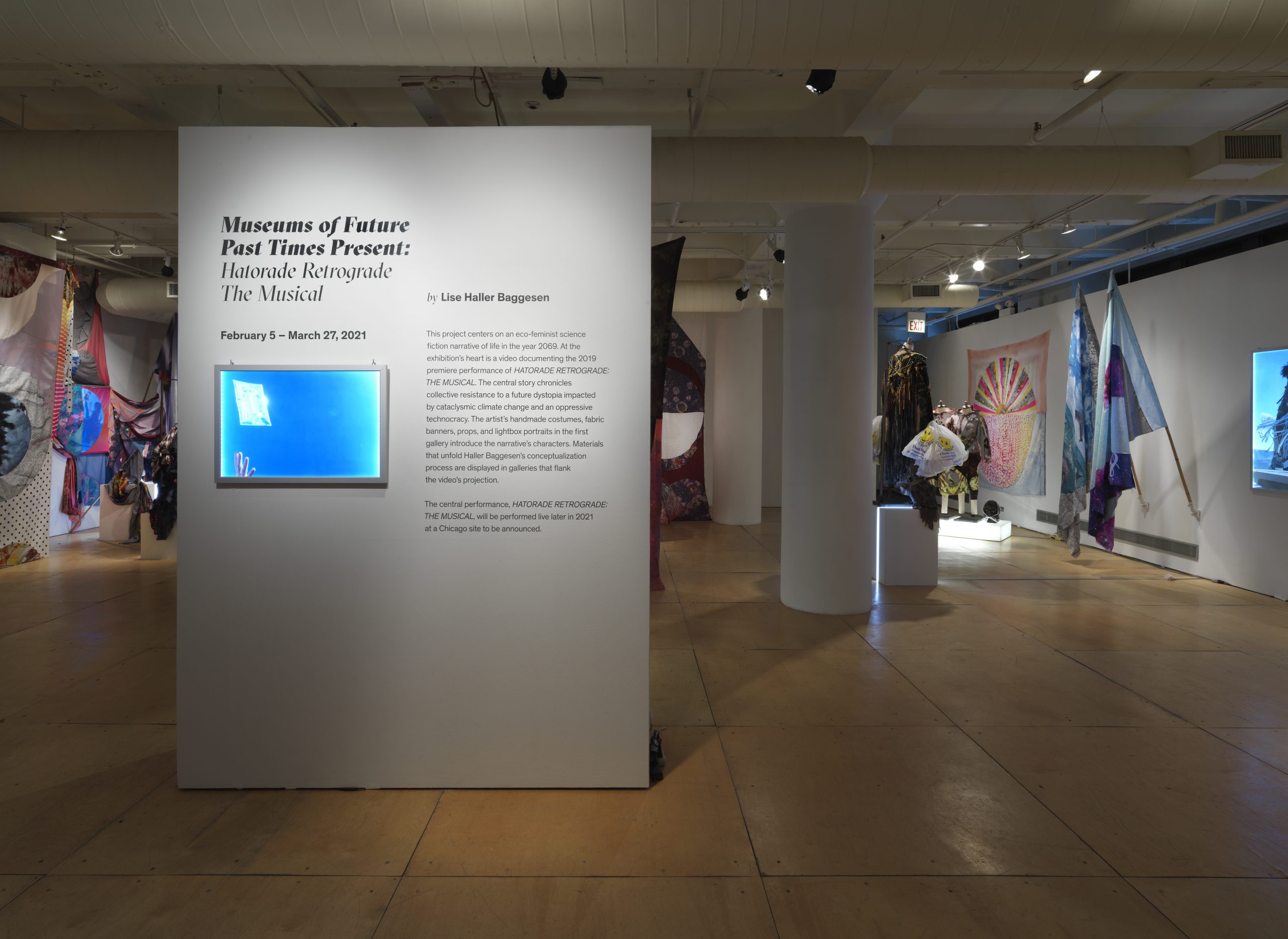 Friday, February 05, 2021–Friday, March 26, 2021
Location:
Gallery 400
400 South Peoria Street, Chicago, IL 60607
Museums of Future Past Times Present: Hatorade Retrograde The Musical centers on an eco-feminist science fiction narrative of life in the year 2069. At the exhibition's heart is a video documenting the 2019 premiere performance of HATORADE RETROGRADE: THE MUSICAL. The central story chronicles resistance to a future dystopia impacted by cataclysmic climate change and an oppressive technocracy, an allegory made more poignant in the midst of the COVID-19 pandemic.
The exhibition features the artist's handmade costumes, fabric banners, and props, introducing the central characters through their distinctive attire and lightbox portraits. Lise Haller Baggesen's inventive ensembles feature bold patterns and silhouettes, combine disparate fashion and cultural idioms, and transmute everyday objects into sartorial hallmarks. Materials that unfold Haller Baggesen's conceptualization process are also presented.
In the world of Haller Baggesen's HATORADE RETROGRADE: THE MUSICAL, a crisis arises inside a high-tech domed city and spills out onto its toxic hinterland, pushing the characters to recognize their inter-dependence and re-imagine societal structures.
This 3D model can be navigated by clicking through the space, or on the white circles on the floor, and can be zoomed into for more detail. The small teal circles (tags) attached to various items contain additional information about the pieces (including detail shots for selected works), while the tags attached to the lightboxes contain audio for each character's title track from the musical. The video can be viewed in the model via its circle tag, as well as below, where it is embedded
Set in a San Francisco of 2069, HATORADE RETROGRADE: THE MUSICAL looks to San Francisco's countercultures of the late 60s, science fiction, and camp.
The speculative narrative, performed by seven Bay Area dancers, evolved in collaboration with teen artists of the Youth Advisory Board at Southern Exposure, San Francisco.  The young artists shared their hopes and fears for the future with Lise Haller Baggesen, inspiring the development of a cast of characters who might inhabit stark, waterlogged landscapes, where technological advancements segregate the "innies" from the "outies."
Footage in the video is from the premiere set of live performances of HATORADE RETROGRADE: THE MUSICAL, presented by Southern Exposure at John McLaren Park in San Francisco on October 12 and 13, 2019.