Art & Art History
Knock Off Enterprises: The Labor Behind the Label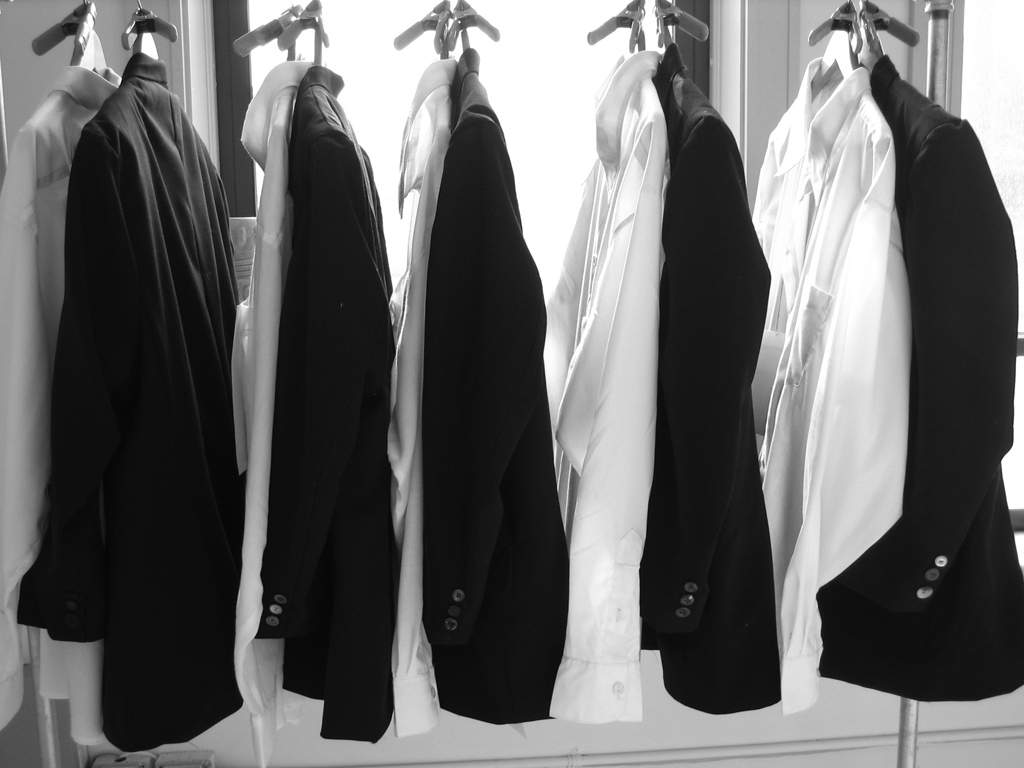 Monday, May 05, 2008–Thursday, May 22, 2008
Location:
Gallery 400
400 South Peoria Street, Chicago, IL 60607
Frau Fiber
In the exhibition Knock Off Enterprises: The Labor Behind the Label, Frau Fiber, activist and textile worker, mimics the expenditure of apparel production by taking apart a white-collar uniform for the purpose of reconstructing on-site a white shirt and business suit originally produced offshore. A suit and shirt, the archetypal white-collar uniform, is an American icon, standing for quality, dependability, and style and thus enhancing the wearer 's professional image. The re-made garments are available for purchase in the storefront, priced on a geographical sliding scale (hours worked to make the reconstructed garment multiplied by the hourly wage scale in the original garment 's country of manufacture—China, Guatemala, or Taiwan—equaled KO (Knock Off) Enterprises ' cost of the uniform).
KO Enterprises made manifest the human cost in the mass production and consumption of the apparel industry by putting on display the labor of pattern making, cutting, and sewing garments in a performative process. Chicago once had a thriving garment industry, now lost. In 1925, during its heyday, it was located principally in three concentrations: the main garment district was on South Market Street between Monroe and Van Buren Streets. Secondary concentrations were found on the near west side, both southwest of downtown and around Milwaukee Avenue between Chicago and North Avenues. The Knock Off Enterprises sewing performance took place in four parts. First, the white shirt disassembly manufacturing at the UE Western regional Council offices; secondly, the suit pants and jacket disassembly manufacturing; followed, thirdly, by the Manufacturer 's sale; and finally, whatever unpaid overtime was necessary to reach the five-uniform goal, all at a space located in a building at 1513 North Western Avenue. Frau Fiber worked diligently in an effort to complete five white-collar uniforms, but she fell 2.5 jackets short by the end of her project. After selling two completed white-collar uniforms at the Manufacturer 's Sample Sale, Frau Fiber returned to her workstation for unpaid overtime to complete the job.
KO Enterprises is a multi-national organization that works to encourage others to stop shopping and start sewing! Micro projects include: Sewing Rebellion, KO Manufacturing and the Synchronized Sewing Squad. Frau Fiber is the organization 's CEO.
Knock Off Enterprises: The Labor Behind the Label was commissioned as one of the projects in the 2008 At the Edge: Innovative Art in Chicago
series.