Art & Art History
It Looks Easy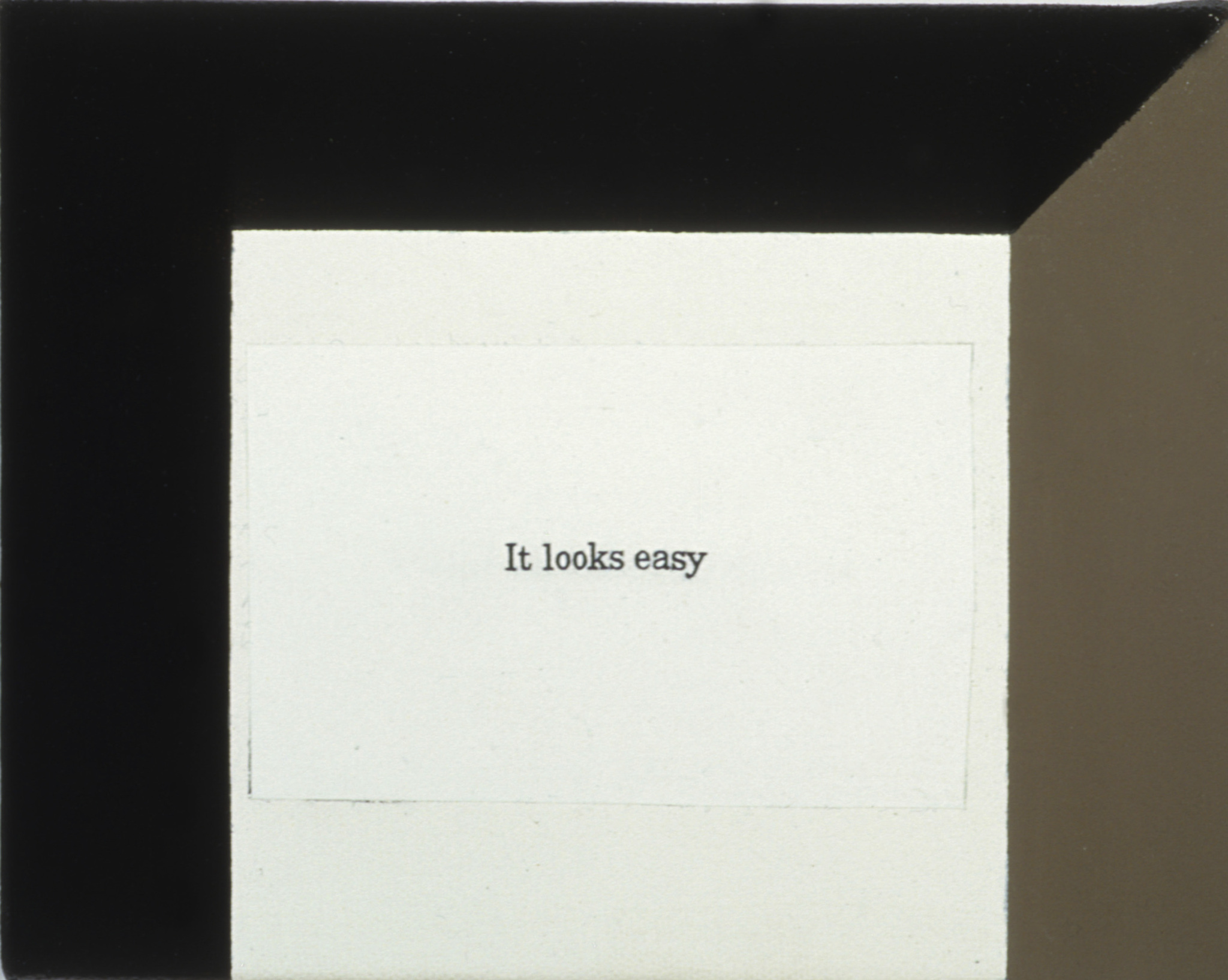 Monday, August 30, 1999–Saturday, October 02, 1999
It Looks Easy, curated by Phyllis Bramson, Julia Fish and Susan Sensemann, considered the space and place of end-of-the-millennium painting, recognizing its continually unfolding aspects. The exhibition demonstrated that as much as painting as a practice is unresolved, it continues to complicate itself, remaining playfully defiant of its oft-proclaimed death. The diverse painting practices in this show reflected the spirit, recent shifts, innovations, improvisations and function of recent painting in Chicago.
Among the pieces in the show was Air-built, a graceful, calligraphic abstraction by Susanne Doremus, which kept company with Shona McDonald's methodical patterned painting, 180 Envelope Innards, constructed of thin strips cut from the insides of envelopes. A disturbing structure of cartoon faces in Mark Otten's Pickle Tickled found its alter ego in a pretty pattern of pastel dots sweeping across Michelle Grabner's Rainbow. Walter Anderson's deceptively simple text painting, It Looks Easy, lent the exhibition its title.
INTERVIEW: PHYLLIS BRAMSON, JULIA FISH, SUSAN SENSEMANN AND KAREN INDECK.
Karen Indeck: I would like to begin by asking about your motivations for curating a painting show in Chicago at this moment? What did you wish to accomplish? What did you feel was your challenge?
Julia Fish: Part of our interest was in response to the sculpture exhibition in May of 1998, held here in Gallery 400 during the Sculpture Conference. We realized that there hadn't been a comprehensive presentation of painting in Chicago in some time. We saw a wonderful breadth in the sculpture show; we were curious to see a similar focus on painting–that was one of the motives.
Susan Sensemann: In view of the breadth of possibility in painting today, I think that we were looking for restless associations and contradictory methods.
Fish: That is what we found once we reviewed the slides for the exhibition. We saw quite a range in the slides that were submitted.
Sensemann: Yes, the city's artists are not promoting a particular agenda, neither are we in our curatorial choices. We did consider gender representation, the size and configuration of Gallery 400, and the possibility for an installation strategy that would back up what we saw in terms of varying approaches and ideas about painting in 1999 in Chicago.
Phyllis Bramson: We had some ground rules and situations that affected our selections. The artists had to reside in Chicago. We asked people to send slides and to pass the word that we were asking painters to be considered for a curated exhibition. This was the process that we took on in part because there are fewer alternative places to see new painters. Some artists wouldn't accept this procedure, as they felt it was wrong to make them do so. Sadly for our community, some younger artists had moved somewhere else … and that was really troubling. We had no initial expectations, nor were we trying to say anything about "painting today." We were very conscious this show was being organized within an art program that has, for whatever reason, always had a reputation for not supporting painting. Yet, we have a strong painting faculty – so how could this possibly be correct? The irony of the situation is that we unilaterally decided that we would not include ourselves or the rest of the painting faculty. We agreed that ultimately this was a very poignant decision to make and stick by.
Sensemann: We made a number of studio visits in order to familiarize ourselves with the work, and it was fascinating to see the way in which artists incorporate their practice into their lives — studios in lofts, living rooms, and garages. The installation of the exhibition proposes a kind of internal discord from work to work, a conversation, possibilities without the probability of a fixed direction or trend. The artists in this exhibition make provocative work which is varied in intent. However, the show is not a survey.
Indeck: There were more than one hundred twenty five painters who submitted slides. The three of you concluded that the gallery dictated a limited number of works.
Fish: Exactly. In fact the work we saw demonstrated how wide the practice is. Any notion that there is somehow renewed permission to paint or — as has been suggested in the last couple of years – "what's happening, why are these artists making paintings?" Well, it is just that certain spotlights gets turned on. Someone goes out and looks around… as in this exhibition, it's not necessarily reflecting a resurgence, but rather I think, a kind of constancy and deep commitment on the part of the artists included. And that was reflected in the slides we reviewed as well. There is a lot of serious work being produced here in this city. It is a cross section of painting in Chicago, but it is not Chicago painting.
Bramson: I am not sure that there isn't eccentricity in this work. I have a feeling there is some aspect of narrative or quality of the way things are touched that doesn't make it Chicago painting, but it certainly isn't California painting. I think that if you went to California, and we had a body of work to choose from, it certainly wouldn't look like this.
Sensemann: Which is, in fact, what contributes to the liveliness of painting as a way of thinking. The 1998 exhibition, Abstract Painting, Once Removed, at the Contemporary Arts Museum in Houston focused on work that was once removed from the romantic notion of painting. The expressionist drip, for example, may now be drawn with a mouse on a pad, projected onto a canvas, and defined by all of the precision that tape allows. The historic weight that painting bears is being offset by the fears and fantasy of life in the 90s…the paintings are strategic.
Fish: "Strategic" is problematic to me, as it suggests a kind of playing for position, trying to find a niche, marketing. That's a word that I hope can stay outside the door of the studio, it's a separate issue.
Bramson: Perhaps because of the influence of our institution there is inserted somewhere in the work chosen some form of philosophical consciousness. While we all had our say, I suspect that some of the paintings chosen for the exhibition are a stand-in for our notions. I think that we are all interested in abstraction.
Fish: Abstraction is at the heart of the practice.
Sensemann: In June, when we reviewed slides, we were not considering a large number of works that were off the support, off the wall.
Bramson: I think we were self-selective by the call that we made. We were really clear about that. This is a painting show. This is a narrative about painting I've used, because I think it explains a lot. It's about a rock. Someone is walking down a path and there is this big rock. You could say, this is a weapon like people make Duchamp into; he is a weapon against painting. You can say, "bad painting", and smash it. Or you can say, "This rock is humming and it's talking to me. It's alchemical. It's philosophy. This is going to ennoble me. It is magical." Or you can look at this rock and say, "This is the silliest, stupidest rock I have ever seen. But I like it. It is dumb. It has no meaning. It is not remarkable; but I 'll take it."
Fish: Your rock might be the thing I stub my toe on. Which might make me stop, see the thing I'm supposed to be seeing. You are talking about something right there in the path that could serve as a start for something, something else…
Bramson: What we have developed, because of the way we teach painting here, is an ability to step back from the process of painting and enter into a dialogue that sometimes meets up with the paintings we are looking at…or often our discussions with our peers and our students are conversations that run parallel to what we are looking at. I always enjoy those moments that veer away from discussion about formalism or mastery.
Indeck: As you speak of veering away from mastery, I wonder if you might comment about the status of painting in the larger sense. Over the past decade we have heard a lot of conversation about the death of painting. Do you think there has been an ambivalence towards painting because of its conventional format and that it does not deviate from expectations? Do you think that this has to do with the attempt by curators to be really radical and present non-traditional forms?
Bramson, Fish, Sensemann: (simultaneous laughter)
Sensemann: Really, the curatorial predisposition that has all but excluded painting from a number of major exhibitions is apparent and problematic.
Bramson: Painters have to contend with the issue. What is dead is painting as it had been known.
Fish: That's well-put.
Sensemann: Painting's erotic potential has been hidden under the mantle of necrophilia! By that I mean, what is it then that painters are doing in our studios every day? Actually, the fact that the discussion about painting's demise has endured for thirty years as a rather lively debate, is curiously at odds with the finality of the statement. In fact, if one sites Duchamp's rejection of painting for its own sake in the early part of the 20th century as the death of painting, we are witnessing a century of questionable behavior in the studio.
Indeck: Are you saying that painting has a sexual connotation?
Sensemann: I think that it is an erotic act. The physicality of painting and of paint, the making of a painting, that part of making a painting that is the gesture of the imagination, the mucking around in the stuff, the component of painting that is not the intellectual constituent is visceral and erotic at its core. And then it has a sensorial presence that exists after the act. I am very interested in looking at painting as a kind of response to the thin, white screen of video. I rarely look at painting today without thinking about the relationship of the work to the pervasive visual culture, which is video and film. In paintings, one sees the perception of an imagined reality that is lodged in the materiality of paint.
Bramson: I have read about this way of speaking about painting, but I have also heard painting referred to as being able to eroticize…meaning that all the senses are alerted and aroused. I wonder if the currant crux of painting's condition, so-to-speak, is not about making love to a corpse; rather, it is more about resuscitating or trying to nourish a depleted body. Those of us who stubbornly remain active painters have never thought of painting as being dead, but we have all probably wondered why we were supporting a weakened, sometimes bothersome body that no one else wanted to be seriously attached to.
Fish: I am able to look at painting and not think about video and film and technology, if the work isn't taking me there. I am usually taken in, or not taken in on the terms of the work itself, as you said, Susan; the way that paint as a material sends a signal…. A reference to film and video is possible, just as it might be to photography, to science. If such associations occur it is as a secondary process, placing the work in the context of other contemporary work. But I do think about painting in a physical sense, the object of the painting as a kind of body. It is an object, and yes, yes I do want to look.
Sensemann: One cannot deny the physicality of the object. The meaning, the image, the ideological stance of the artist, all of that residue takes a great deal of time to decipher. So, it is that physicality, the matter of paint, that is a perception of the material world that returns to matter.
Fish: It is material that records in some way the artist's relationship to the image regardless of what that might be. It represents a relationship by touch or by how the material is handled, even if there is another material used as a substitute or surrogate, as we have in a few instances in this exhibition.
Bramson: As I mentioned earlier, whatever set of conventions or sensations that exist with painting at this time are up for grabs, as far as I'm concerned. Aside from my studio stance, I have learned not to expect a lot from painting. I honestly have found myself less interested in discussions about whether a painting is "good," whether a painting show or the artist has substance and so on. What matters is that it has grabbed me, fought with me, or compelled me to confront it face to face. Sometimes, much to my bemusement, I have more of that pleasure of an eroticized moment in relation to looking, when I see large scale photography or video installation. Because they have taken on a lot of the visuality and sentiment that once occupied painting. A painter friend said she thought that painting and photography had exchanged roles or positions. That photography was better equipped these days to take on romanticism and narration… in other words, it was allowed. Painters have had to become more ironical and have flattened the narrative and the way paint sits.
Indeck: How do you address the question of irony and self-consciousness in considering painting today?
Sensemann: Painting is asserting itself as a valid method of deconstruction, including the vital discussion of its own deconstruction. And it is maintaining a responsive, discursive, and communicative value.
Bramson: I was talking to Richard Loving, we were talking about painting and he put it really well — he said that it's hard to be in love when you're being ironic…And I think that's what painting is now; it's not in love with itself, it's filled with irony and self-criticism, and it's suspicious of itself–on the one hand, on the other hand, it's on track. I thought it was very strategic of the curators of Examining Pictures to produce a catalogue that is easy to hold and to reference. The reading of the text, and then projecting it back onto or into the paintings seems important. So that once again, any pleasure has to be filtered through some sort of dialogue. This probably adds to the aggravation some people feel about longing to see something in painting that just isn't there at the moment. There seem to be very few psychological plug-ins, and certainly no performing dogs or tap dancing spectacles.
Fish: But it is participating in that very same kind of consciousness that is societal and is attached to any creative process. Any creative endeavor is undergoing the same kind of self-conscious, self-critique that we want to find in painting. It's there in literature, in film. Painters are free to access the same kind of thinking that anyone in any other creative field is able to take on.
Bramson: That is right. I think that that is what happened. What is upsetting people is that paintings are looking very odd.
Indeck: Describe odd.
Bramson: Some painting has bad manners these days and isn't interested in being well-groomed. So often even sophisticated art viewers will dismiss a painting because it isn't painted well, not thinking of what Julia just said, that painters and their paintings are free to take on contemporary culture like anybody else is able to do.
lndeck: And what about mastery?
Sensemann: The bravura of the 50s, that's hard to live down. It is as though painters today watch themselves paint in a willful and self-conscious act. But the loss of innocence about painting's mythic potential opens up a range of possibilities that are non-hierarchical and can be eccentric, humorous, uncomfortable. The challenge to the canon, to painting as the medium of choice for what was thought to be transcendent art-making, has allowed for work that reflects a disregard for classification.
Fish: I think that the idea of mastery has been pretty successfully challenged, it sounds past-tense — it is past-tense. Now, I think most work builds from experience, experimentation, process — the situation is open now, open to question, and has more to do with finding a way to make the work fit intention, intentionality. Knowing history can influence one's intention, but the craft and appearance of something must fit the idea. Painting has stretched in a lot of directions. I have to think differently in my studio, and in the teaching studio as well.
Bramson: You are correct that it affects how we teach these days. My whole strategy has changed, even how I teach drawing, and how I speak to my classes. I have had to rethink my ideas about time, expectation, and mastery. I have had to admit that it is beginning to shift my paintings and stance in my studio also.
Fish: But having a voice, finding a voice… How do I encourage someone who is learning to paint and think at the same time about painting, to have confidence when we are all living in a situation in which there is very little certainty to stand on? When there is no right or wrong in a visual sense? Everything is open to scrutiny. That is the condition one finds in life and that is the condition in painting. The Academy proposed one way, a right way. But now, it 's another situation. It is harder and harder to hold a certain position even in my own studio. In teaching, it is more difficult to say what is 'good' or 'not good'. I find I use "successful, less successful" and that is in relation to the idea of intention I mentioned earlier.
Bramson: I know by good I mean it captures me or it doesn't.
Fish: You know when you are interested. You and I can be interested in different things.
Bramson: Sometimes, when I am critiquing student work often by "good," it means that the work has some sort of willfulness, or integrity…. or that it is that dumb rock I spoke of earlier. We might even have that kind of a painting here, one piece that's pulling a lot of pressure on the work around it, because it snubs its nose at the conventions of painting. I'm more interested in how it engages the other work. There's nothing here that's conforming to the idea that there's something wrong with painting; it's all about the fact that there's something right with it.
Fish: Because painting is only one of many options, it has become a more specific investigation – closer to a kind of philosophical investigation, one thinks or is required to think about painting in a specialized way.
Bramson: I thought Ryman said a long time ago that painting has a certain space that it should occupy in terms of an installation. It is not a salon. You go into so many institutions where there is a carelessness about the space between things because of the bias of curatorial authority willfully choosing paintings that conform to their idea that painting is no longer interesting.
Indeck: What will painting have to look like or how will it have to change to meet future expectations?
Sensemann: It may be a refuge…The difficulty is in the slow look, paintings unfold slowly, paintings take time. The works in this exhibition are solid examples of the resonance that work can maintain over the long look. It seems useful for some artists to assert a studio practice that is manual and durational.
Fish: I agree. Painting is a static object, after all, and shouldn't apologize for that. But it is problematic to try to talk about painting as if "it" is some independent entity, as if it could know what "it" will look like. Perhaps you are touching on the assumption that we would each continue to revise our own expectations — I hope so. The viewer has expectations too. Given the recent tendency, as seems prevalent in international exhibitions, biennials, to have works of a certain scale to accommodate crowds moving at a certain rate, work has to be able to function given the sheer number of people that would occupy a room — art that accommodates the need for crowd control. Video and video projections are a natural. But video is engaging a slowed-down-pace, the moving image acting more stable, slow transitions, so viewers are challenged to stand there.
Sensemann: But the hypnotic quality of the darkened room, the anonymity and passivity of sitting before a screen in a theater or at the computer, offers a kind of pleasure or comfort. To walk through a white room and stop before rectangular objects on the wall is anomalous to the common experience of watching quick images zap our senses. Assumptions about speed, duplication, data, and simulated life are questioned, woven into the methods and intentions of much of the work in this show.
Bramson: Instead of thinking that painting can be reinvented or made into something that competes with technology…one might say that painting is something to be tinkered with…its technology is that it's a jerry-rigged thing.
Bramson: I have always objected to artists who say. "I am a painter, but I am concentrating on making videos." I will say, "No, you are not a painter," a painter is painting. Often, I think painters have bowed down to the notion that what they were dong was insignificant, and the only way to make themselves feel "present" and of value was to go into another arena. The idea about the hierarchy of value in relation to technology and interdisciplinary work has been an ongoing argument. I say, in painting, it is the language that has become interdisciplinary. Painters are referencing and incorporating more eccentric ways of speaking and thinking about their work. Once a painting says, "Oh yeah, excuse me, I guess I'm not current enough," it slinks away rather than standing upright and saying, "I can't be something I'm not…and I have no trouble dealing with that." To quote that famous icon, Popeye, "I yam what I yam."
Sensemann: Painting today may not be virtuous, but it is an exercise in non-virtuality that painters experience as a head-to-toe awareness when the making of a painting corresponds to the imaginative impulse…not bad, as a part of daily experience.
Bramson: Belief is everything and can overcome all obstacles…that refers to the second stone in the road!.…or maybe belief is the rock that one stub's their painter's toe on!
****
Bramson, Phyllis; Julia Fish; Susan Sensemann. "It Looks Easy: A Cross Section of Recent Painting in Chicago." Interview with Karen Indeck. August, 24, 1999.
This interview was distributed in the gallery during the run of the exhibition.
EXHIBITION CHECKLIST
Walter Andersons

It Looks Easy, 1998
Acrylic on canvas, 4 7/8 x 6 in.
Susanne Doremus

Airbuilt, 1999
Oil on canvas, 50 x 79 in.
Nancy Ford

Polaris, 1998
Enamel and acrylic on canvas, 25 x 31 in.
Michelle Grabner

Rainbow, 1999
Enamel and flocking on canvas, 36 x 36 in.
Jim Lutes

Untitled, 1998
Oil on linen, 48 x 60 in.
Shona MacDonald

180 Envelope Innards

Envelopes and acrylic polymer emulsion, 33 x 72 in.
Michael McCaffrey

Untitled, 1999
Enamel on Sintra, 46 x 46 in.
Donald McFayden

Gamble Shed, 1999
Oil on panel, 25 x 22 in.
Mark Ottens

Pickle Tickled, 1999
Acrylic on canvas, 36 x 36 in.
John Phillips

Shy Guy, 1999
Oil on canvas, 69 x 68 in.
Sue Scott

Pinch, 1998
Tape on wall, 7 x 3 in.
Rebecca Shore

#3, 1999
Egg tempera on panel, 16 x 20 in.
Elizabeth Shreve

All of Them, 1999
Oil on linen, 14 1/2 x 14 1/2 in.
Charles Slatkoff

Possible Memory No. 1, 1999
Acrylic on panel, 11 1/2 x 11 1/2 in.
John Sparagana

Down, 1998
Oil on linen, 36 x 46 in.
John Spear

Lost/Mars in Aries, Omnimax Mountain Movie Mess, 1999
Mixed media, 72 x 58 in.
Norman Steck

Fat Boys, 1999
Oil on canvas, 36 x 60 in.
Bibiana Suarez

El Nino de Atocha con dalmatas/Little Jesus with Dalmatians, 1997-1998
IRIS Digital Print on Paper Laminated to Panel, 21 in. diameter
Mano y onda/Island with slingshot, 1997-1998
Flashe paint, prismacolor pencil on paper laminated to panel, 21 in. diameter
Diana y Virgen con pene/Diana and Virgin with Penis, 1997-1998
IRIS Digital Print on Paper Laminated to Panel, 21 in. diameter
Seno durante el embarazo/Breast During Pregnancy, 1997-1998
Flashe paint, prismacolor pencil on paper laminated to panel, 21 in. diameter
Princesas/Princesses, 1997-1998
IRIS Digital Print on Paper Laminated to Panel, 21 in. diameter
La Mano Todapoderosa/The All Powerful Hand, 1997-1998
ENCAD digital print on paper laminated to panel, 21 in. diameter
Mary Lou Zelazny

She Had Blue Eyes II, 1999
Acrylic, oil and collage on canvas, 62 x 60 in.
CURATORS BIOGRAPHIES
Phyllis Bramson is an established Chicago painter and art educator. Her playful paintings depict sexual relationships and scenes from eastern mythology with an unusual, emotional sense of color. Currently, she is an advisor to MFA students at the School of the Art Institute of Chicago. Bramson served as Professor of Studio Art in the Department of Art and Design at the University of Illinois at Chicago from 1985 to 2007. In 2007, she was named Professor Emerita of Studio Arts at UIC. Her work has been included in solo exhibitions at the Chicago Union League Club; Carrie Secrist Gallery, Chicago, IL; Claire Oliver Fine Art, New York; the Boulder Museum of Contemporary Art, Boulder, Colorado; the Indiana University Gallery, Bloomington, Indiana; among many other venues. She has been featured in group exhibitions at the Museum of Contemporary Art Chicago, the Art Institute of Chicago, the Musee du Toulon, France; the Seattle Art Museum; Exit Art, New York City; and other venues. Bramson has curated several exhibitions, including "Tethered to My World, Contemporary Figure Painting: Location, Chicago" at The Art Center in Highland Park, IL; "Pasted On," Carl Hammer Gallery, Chicago, and "And Everything Nice," Rockford Art Museum, Rockford, IL. Her work is featured in numerous public and private collections.
Julia Fish is an artist and Professor of Studio Arts at the University of Illinois at Chicago. Fish was born in Oregon and has lived and worked in Chicago since 1985. Her work has been presented in twenty-one solo exhibitions since 1980, and was the subject of a ten-year survey exhibition, View, at The Renaissance Society at the University of Chicago in 1996. Recent paintings were included in 2010, the Whitney Biennial. In addition, paintings and drawings have been curated in exhibitions at the Museum of Contemporary Art, Chicago; the San Francisco Museum of Modern Art; Chicago Cultural Center; the MAK Center for Art and Architecture / Schindler House, Los Angeles; and the Martin-Gropius Bau, Berlinische Galerie, Berlin, among many others.
Fish received a Louis Comfort Tiffany Foundation Award in 1991, a National Endowment for the Arts Fellowship in Painting in 1993, the Cal Arts / Alpert Ucross Residency Prize in 2001, and the 2006 Richard H. Driehaus Foundation Award; she has also been granted research and travel awards from the University of Illinois at Chicago where she is Professor of Studio Arts in the School of Art and Design, College of Architecture and the Arts. Her work is in the permanent collections of The Art Institute of Chicago, The Museum of Contemporary Art in Chicago, Los Angeles Museum of Contemporary Art, The Museum of Modern Art, New York, The Smart Museum of Art at the University of Chicago, and the Illinois State Museum, Springfield, in addition to other public and private collections. She received a BFA from Pacific Northwest College of Art in 1976, and an MFA degree from the Maryland Institute, College of Art in 1982.
Susan Sensemann is an artist, educator, curator and arts administrator who has lived and worked in Chicago, Illinois since 1979. She is Professor Emerita at the University of Illinois at Chicago. Sensemann is an artist who has focused on a variety of subjects, including gothicism, feminism, eroticism, the baroque, and psychology; through the use of photography, drawing, sculpture, and primarily painting, Sensemann has built a long career of art in various forms. Her photographs and paintings have been exhibited nationally and internationally, and are held in numerous private, public and university collections. She has curated a number of shows exploring these interests, including "More is More," "Slice and Dice," "why break the spell?" and "Tangential Pleasures." She is also a community arts advocate, working for many years on a mentorship program for emerging artists. From this program she developed an international exchange program with artists throughout the world, including Germany, China, and Finland. The recipient of numerous awards and fellowships throughout her career, Sensemann earned the Illinois Arts Council Visual Arts Fellowship, the Silver Circle Award from UIC, grants to fund international programs, and various other honors.
MEDIA COVERAGE
Gustafson, John. "It Looks Easy: A Cross Section of Recent Painting in Chicago." New Art Examiner (Chicago, IL), Dec. 1999/Jan. 2000, p. 49-50.
EXHIBITION SUPPORT
It Looks Easy is made possible by the College of Architecture and the arts, the School of Art and Design, and supported in part by a grant from the Illinois Arts Council, a state agency.
PRINT COLLATERAL
Postcard: It Looks Easy