Art & Art History
I'll make you a movie after I eat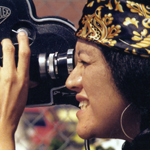 Monday, October 06, 2014–Tuesday, October 14, 2014
Location:
Gallery 400
400 South Peoria Street
Curated by Josh Rios and Anthony Romero, I ll make you a movie after I eat
is a series of screenings, performances, and talks celebrating Chicana/o moving image works. Each screening will be accompanied by a public presentation, performance, or talk.
Monday, October 6, 6pm:
Yo Soy Chicano (I am Chicano), 59 mins, Jesus Trevi o, 1972
Yo Soy Chicano is a KCET produced documentary portrayal of the Chicano/a experience, from its pre-Columbian roots to the Mexican-American struggle for civil rights in the early 1970s.
Chicana, 23 mins, Sylvia Morales, 1979
Chicana traces the history of Chicana and Mexican women from pre-Columbian times to the present. It covers women's roles in Aztec society, their participation in the 1810 struggle for Mexican independence, their involvement in the US labor strikes in 1872, their contributions to the 1910 Mexican revolutions and their leadership in contemporary civil rights causes.
Monday, October 13, 6pm:
Chulas Fronteras, 58 mins, Les Blank, 1976
Chulas Fronteras is a complex, insightful look at the Chicano/a experience as mirrored in the lives and music of the most acclaimed Norte o musicians of the Texas-Mexican border, including Flaco Jimenez and Lydia Mendoza.
Lisa Junkin-Lopez, interim director of the Jane Addams-Hull House Museum, will present on the Hull-House Kilns, an historic project of the Hull-House settlement and an early example of intercultural exchange in Chicago's Mexican community.
I ll make you a movie after I eat is co-sponsored by the UIC Latino Cultural Center.