Theatre & Music
Gallery 400 firework performance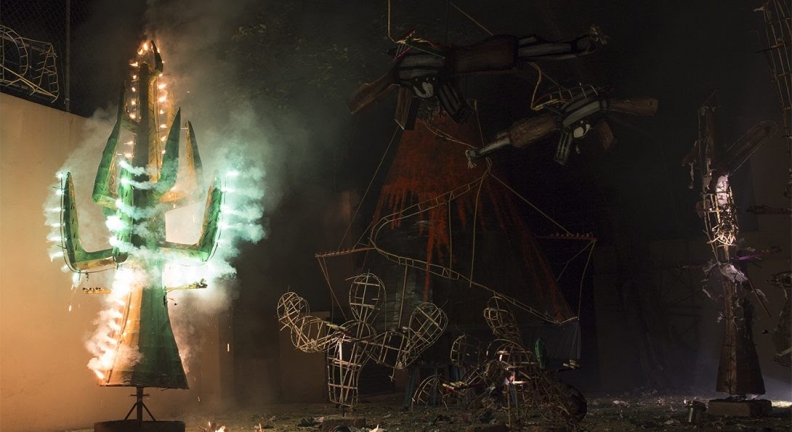 Saturday, November 02, 2019
Date: Saturday, November 2

Time: 6:30pm

Location: La Villita Park (2800 S Sacramento Ave)



Come experience a firework performance celebrating La Villita neighborhood stories. Created by Mexican artist Adela Goldbard, the event blends ritual fireworks and the story of a La Villita woman's encounters on her Sunday afternoon walk through the neighborhood.



Free to the public!



Centered on the community interests of residents in Chicago's Little Village neighborhood, Adela Goldbard's The Last Judgment features large-scale sculptures built as pyrotechnic scenography for a public pyrotechnic event to be presented in Little Village on November 2nd, 2019. As a multi-part project, The Last Judgment creatively draws on Mexican traditions and artistry to spectacularly address and ritually purge the challenges facing Chicago's Little Village.



The sculptures—built by master artisans of Artsumex collective in Tultepec (Mexico's pyrotechnic capital)— derive from the struggles, life experiences, and resilience of Little Village residents, as well as concerns about environmental justice and gentrification. The sites, sets, and stories were collaboratively determined in a series of summer 2019 workshops that Goldbard and collaborating teaching artists held with multigenerational Little Village residents in schools, community centers, and other neighborhood locations. The Last Judgment is a bridge between organization, artists, artisans, activists, Mexican and Mexican-American communities across Chicago neighborhoods and across the border.



Image credit: Adela Goldbard, Mission Accomplished, 2016, wood, reeds, newspaper, paint, fireworks, HD video, and stereo sound. Pyrotechnic performance at Gallery Gil/Zarate, Mexico City.