Art & Art History
Funding and Creating Your Independent Projects: Propeller and Beyond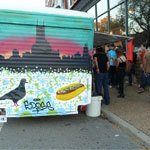 Saturday, June 02, 2012
Location:
Gallery 400 Lecture Room
400 South Peoria Street
This all-day workshop will address how to write effective proposals, craft budgets, manage tax issues, organize and develop projects, navigate the online submission process for the Propeller Fund (upcoming deadline: August 1), and other opportunities.
Presenters include Propeller Fund staff, Anne Elizabeth Moore, Chelsea Culp and Ben Foch of New Capital, Chicago Torture Justice Memorial Project, and other previous Propeller Fund awardees.
Schedule of Events: 
9:45am: Introduction
10-11am: Budgets, budget forms, and taxes
11am-12pm: Writing a compelling proposal
12-2pm: Lunch
 With four breakout sessions on making independent projects
2-3pm: The Propeller application process
The online system
A juror's viewpoint
How Propeller helps after the award
3-4pm: One-on-one 15-minute sessions with Propeller staff
This workshop is free and open to all. Please RSVP to lauren@three-walls.org
with the subject line propeller workshop to attend.
Propeller Fund provides money directly to artists, curators, and groups living and working in Cook County, Illinois, and seeks to support projects that are independent, informal, self-organized, and long-term or short-term. Learn more about Propeller Fund here.