Art & Art History
Empty Bowls Fundraiser and Soup Service. Produced by Lan Tuazon and Liz McCarthy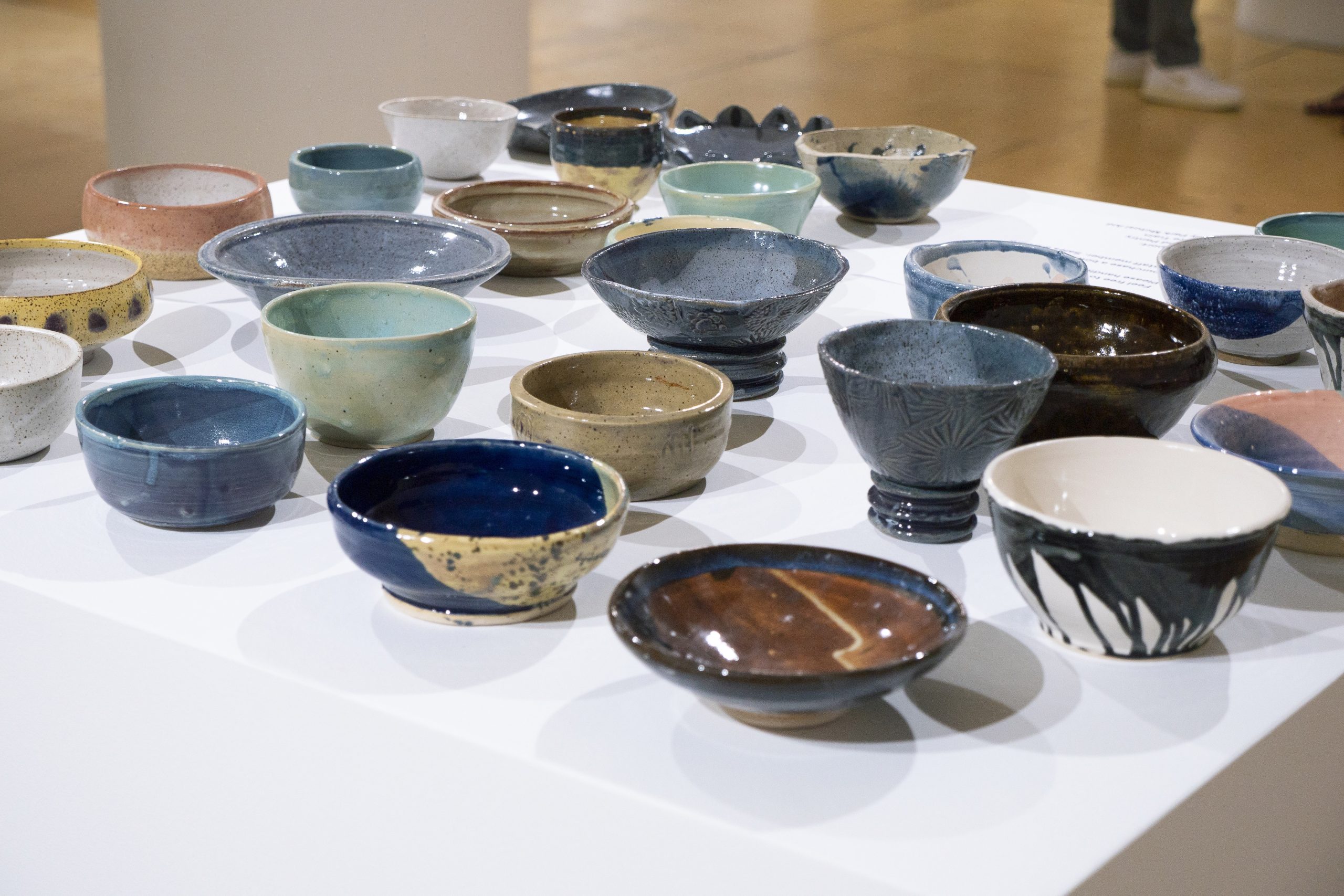 Saturday, November 12, 2022
Location:
Gallery 400
400 S Peoria Chicago, IL 60607
Join us for the third annual Empty Bowls Soup event hosted by artists Liz McCarthy and Lan Tuazon of Gnarware Workshop. Since 2020, McCarthy and Tuazon have collaborated to bring Empty Bowls, a grassroots tradition to fight food insecurity, to Chicago. In the Empty Bowls tradition, ceramicists create bowls for sale, with proceeds benefiting local mutual aid organizations. 
All bowls in For Each Other are for sale in the gallery, and this year's proceeds directly support the Pilsen Food Pantry, the UIC Food Pantry, The Love Fridge Chicago, McKinley Park Mutual Aid, and PMI Community Kitchen. Beginning November 1, bowls will be on sale on Gnarware's website until the morning of the event. 
In collaboration with the Hyde Park Art Center and a collection of contributing artists, commune with us to enjoy a free bowl of soup and tour For Each Other. This year's soup donation is made possible by the Public Media Institute's Community Kitchen program. Soup is provided by chefs at Kimski, DonerMen Food Truck, DMen Tap, and Wherewithall. Leftover soup will be relocated to the Love Fridge Chicago and underserved encampments throughout the city.
ABOUT
Liz McCarthy (She/they) is a Chicago-based artist that combines ceramics with other objects and performances. She is founding Director of the GnarWare Workshop ceramics school and community studio. She is also a lecturer in Ceramics at the School of the Art Institute of Chicago. Currently she has a solo exhibition, "MONSTRARE," currently on view at Belong Gallery in Chicago through November 5th 2022. 
Lan Tuazon lives and works in Chicago where she is an Associate Professor of Sculpture at the School of Art Institute in Chicago. Solo exhibitions of her work include the Brooklyn Museum and Storefront of Art and Architecture in New York, Youngworld, Inc in Detroit, Julius Caesar in Chicago, and the Visual Arts Center in Texas.  Lan Tuazon has exhibited internationally at the Neue Galerie in the Imperial Palace of Austria, Bucharest Biennale 4, the WKV Kunstverein in Germany, the Lowry Museum in London, and her most recent solo exhibition in Chicago titled, Future Fossils: Sum presented at the Hyde Park Art Center in 2021.