Art & Art History
Earth Day Sustainability Fair with Garden for a Changing Climate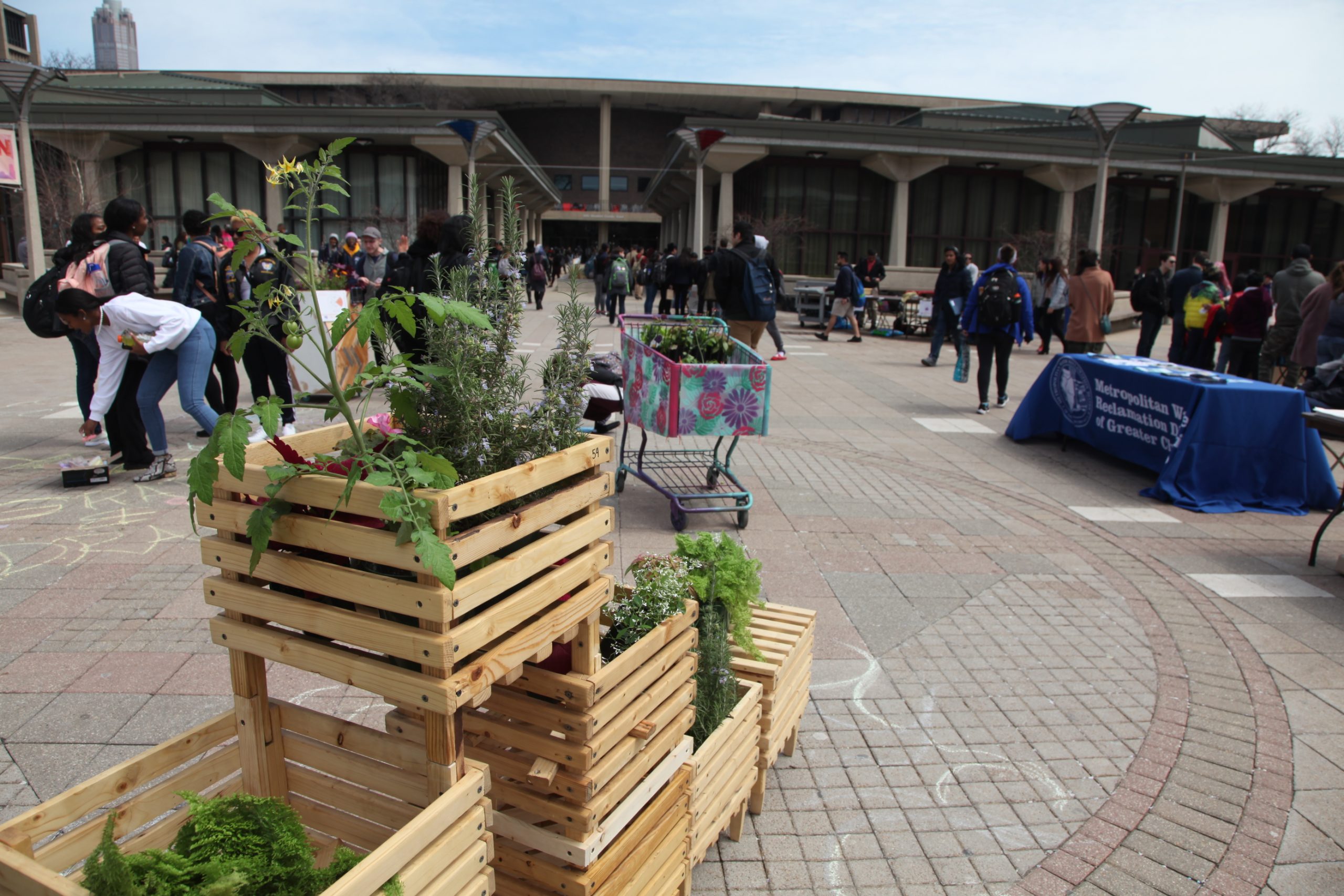 Monday, April 23, 2018
Location:
UIC Quad
803 S Morgan St
Celebrate Earth Day at UIC and their ongoing Climate Change Commitments to create a resilient campus that recognizes, responds, and educates UIC's campus community about the impacts of climate change. This outdoor pop-up event, planned by UIC students as part of Garden for a Changing Climate, features booths and activities from various organizations on campus and throughout Chicago that explore sustainable and green practices for everyday life.
Earth Day Sustainability Fair Activities:
Commitment to Sustainability: Join the pledge to live a sustainably aware lifestyle and contribute to the climate change commitment banner.
UIC Office of Sustainability: Learn about UIC's Four Climate Commitments
UIC School of Design Paglione Design Challenge: Student participants of the Design Challenge present their research and designed objects that support communities affected by natural disaster, many resulting from climate change.
Verdant Matter Plant Sale: Verdant Matter, located in Pilsen, will be vending succulent plants, pottery, and offering planting demos.
Silk Screening: Carry your climate change pledge on your clothing or bag. Provided t-shirts and live silk-screening instruction.
UIC Greenhouse and Plant Research Lab Plant Giveaway
UIC Nutrition Teaching Garden Pea Shoot Planting Demo
UIC Heritage Garden
Self-Watering Planter Demo
Atmospheric Orchestra Presentation + Demo by Artist Jared Kelley
Seed Bombing Workshop: Learn to make native plant 'seed bombs' with artist Jenny Kendler, which you can take and toss into empty lots and un-built land—helping to re-wild our city.
Chicago Water Reclamation District Tree Seedling Distribution: Visitors are welcome to take a seedling to plant in a location that is suitable for what will grow to be a 50ft tree.
Upton's Naturals, 12-1pm: Enjoy a healthy lunch from Upton's, a natural foods company with a focus on meat alternatives and vegan values.
Poetry Foundation Workshop, 1-2pm: All experience levels are welcome to a discussion and creative writing workshop led by Poetry Foundation Library Coordinator Maggie Queeney. In celebration of Garden for a Changing Climate, read and discuss a wide range of ecopoems, a species of nature poetry that explores the interactions and intersections between culture, social justice, and the environment. Participants are guided through composing original ecopoems.
Earth Day Sustainability Fair co-organized by UIC students: Gavin Fox, Lorena Hernandez, Alexandra Hohnsen, Erin Hudson, Matthew Insalata.