Art & Art History
CTRL + histories 2022 UIC MFA Thesis show 2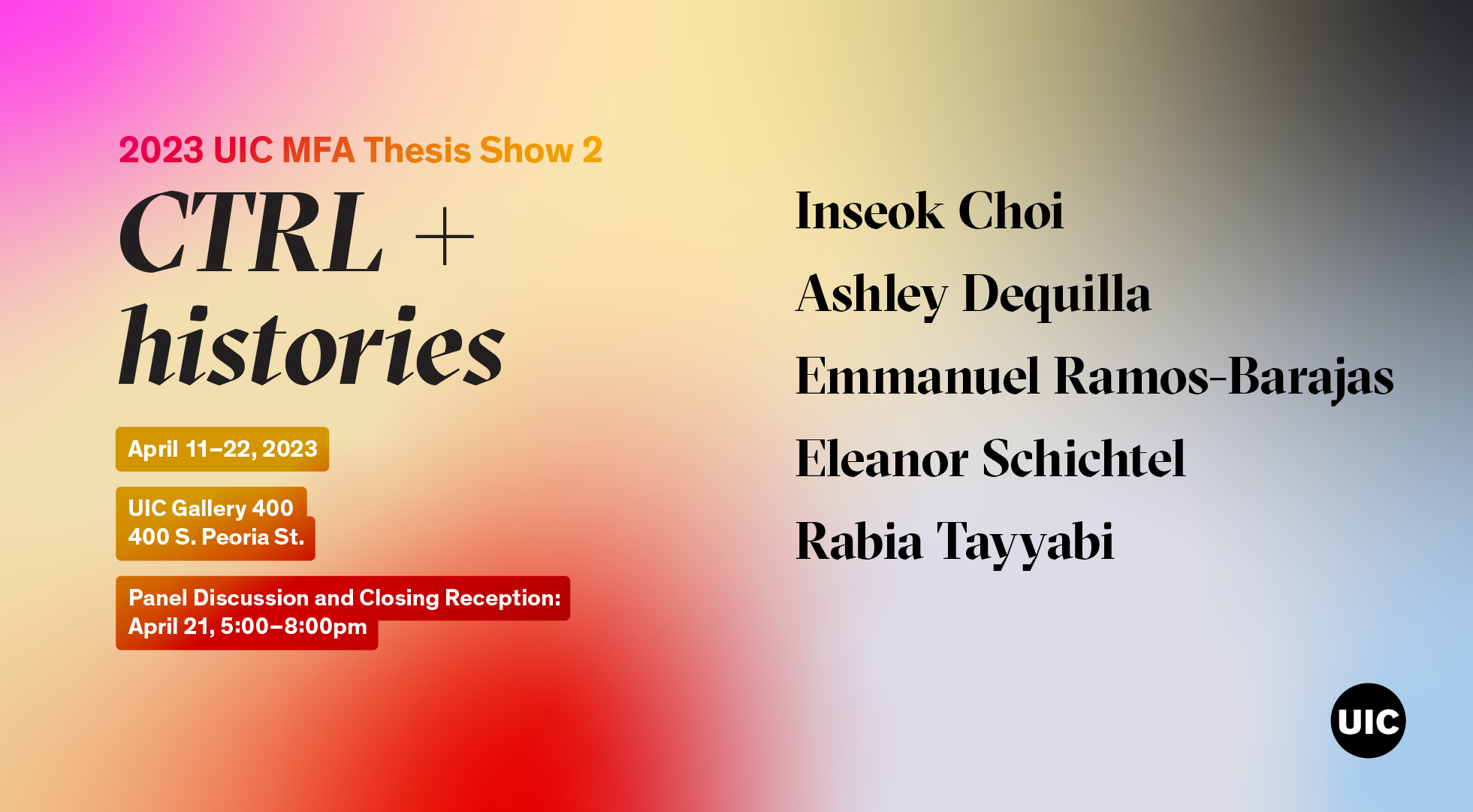 Tuesday, April 11, 2023–Saturday, April 22, 2023
Location:
Gallery 400
400 South Peoria Street, Chicago, IL 60607
Inseok Choi
Ashley Dequilla
Emmanuel Ramos-Barajas
Eleanor Schichtel
Rabia Tayyabi
Curated in the spirit of collaboration and investigation, a series of encounters and CTRL + histories are joint MFA thesis shows that emerged from a single question raised by MUSE's (Museum & Exhibition Studies) Exhibition Practices class and answered by this year's graduating students of UIC's MFA program: How does art invite us to explore the encounter between embodied memory and larger historical, social, and institutional forces?
In CTRL + histories, artists Emmanuel Ramos-Barajas, Eleanor Schichtel, Ashley Dequilla, Rabia Tayyabi, and Inseok Choi stretch the capacities of technology to alter societal perspectives on topics such as cartography, the nature/culture dialectic, gender-based violence, mental health, and popular culture. Ramos-Barajas and Schichtel are mutually invested in the ethics of historiography and turn to computer software as a means of intervening in dominant historical narratives and exposing "History" as a composite of constructed, institutionalized narratives open for revision. Dequilla's and Tayyabi's media-based art riff on the radical refrain, "the personal is political," in the exploration of "the screen" as an extension of the racialized, gendered, and minoritized body. Finally, Choi's artistic practice examines the personal even further by adapting early photography techniques, which expose (and re-expose) the fragile, impermanent conditions of modern, urban-sited subjectivity.
Join us for the second MFA Thesis Show featuring the work of our 2023 MFA cohort! A panel discussion from 5–6pm and closing reception from 5–8pm will be held on Friday, April 21.
Curated by Dr. Lucy Mensah of Museum and Exhibition Studies and the students in her Exhibition Practices class
2023 UIC MFA Thesis Show 2: CTRL + histories Bios
최인석 / 崔仁碩 / Choi Inseok (pronounced 'IN-suk CHE', b. 1988, South Korea) is a visual artist based in between Illinois and Indiana. Choi's works are mainly based on his moving experiences and developing ideas about the body and space as a memory container. Choi becomes an examiner around various boundaries with linguistic and visual differences through his research, which is Identifying himself as a transnational wanderer. Choi keeps questioning limited status and belonging beyond nationality as well as obscure distinctions between human and non-human beings. 
www.ischoi.com IG: @in.seok.choi
Ashley Dequilla (b. 1987) is a second generation Filipinx American artist-filmmaker who uses painting, performance, moving image, installation, and ritual in her practice. Ashley graduated from the College of William and Mary with a BFA in Studio Art and Art History and holds a Post-Baccalaureate certificate in Fine Arts from the Maryland Institute College of Art. She is the two-time recipient of the UIC Award for Graduate Research. As a community organizer, Ashley works in the realm of gender violence survivor advocacy and Philippine human rights and cultural production.
Emmanuel Ramos-Barajas is a scholar, educator, and research-based image maker who studies the links between history, conquest, and landscape representation in the aridlands of the US Southwest. By investigating narratives of exploration and discovery and by distorting the established conventions of landscape art, his work manifests how images have mediated the telling of history by veiling ideologies of colonization. With a frenzied gaze through a moving car window, he places infrastructures of energy consumption at the center of our experience of "the West." Working with different imaging technologies, his panoramic collages, experimental videos, and immersive landscapes unmask historical constructions and imagine different futures—challenging our sight and interrupting the sublime. Emmanuel is the co-creator and video producer of Unsettling Journeys, an educational YouTube channel dedicated to deconstructing Latinx identities through Art History; as well as co-curator of Borderless Cultures, a film screening project invested in the critical dissection of cinematic conventions. He has worked at The Block Museum of Art as Communications Media Coordinator and the social media company we are mitú as video producer. He received his BA from The School of Theater, Film and Television at UCLA, and will complete his MFA from the University of Illinois Chicago in Spring 2023. He will matriculate in the Screen Cultures PhD program at Northwestern University in the Fall of 2023.
ramosbarajas.com ramosbarajas@gmail.com
Eleanor Schichtel is a new media artist working primarily in 3D animation and video game software. Her work deals with the pervasive influences of pseudo-historical aesthetics in digital media. Her research examines popular media that exists at the intersection of the historical and the digital, or rather, media that utilizes contemporary image-making technology to depict varying historical periods and fantasy landscapes.In her process, Schichtel utilizes code and digital image making techniques typically used for mainstream mass media projects. By pushing the capabilities of open-source software to render a hyperreal cinematic simulacra, the inevitable resulting glitches point to the flimsiness of digital media and melodrama. Schichtel received her Bachelor of Fine Art at the School of the Art Institute of Chicago in 2016 and has shown work at Intersect Art Space, Fluffy Crimes Gallery, and Gene Siskel Film Center. She has worked with Video Game Art Gallery since 2018.
Rabia Tayyabi (b.1994) is a new media artist who engages in a code-based process, transforming generative animations into prints, sculptures, and installations. Through her practice, Tayyabi explores the interconnectedness of her female, Muslim, Pakistani, Canadian, and American identity and its impact on her life experiences, mental health, and creative expression. Utilizing a visual language of geometric shapes, layering, and vibrant colors, she's influenced by traditional Pakistani textiles, landscapes, and expressionist and gestural art. Tayyabi looks at the layering, movement, and patterning found in these spaces to inform her creative process. Tayyabi is currently based in Chicago, IL. She received a B.A. in Psychology and Studio Art with concentrations in Art and Technology and Interaction Design from Northeastern Illinois University (NEIU) in Chicago. In 2019, Tayyabi was awarded the NEIU MakeSpace Fellowship. Most recently, she was a resident artist at SpaceShift Collective's starlight community art space. 
 rabiatayyabi.comIG: @tayyabirabia