Art & Art History
Creative Resistance: Past|Present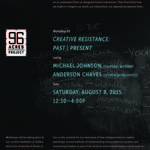 Saturday, August 08, 2015
Location:
Gallery 400
400 S. Peoria St.
Join Gallery 400 and 96 Acres for the final workshop in 96 Acres' latest series, P is for Praxis: Practices of Freedom —free, intergenerational creative workshops around methods of implementing action/reflection (praxis) and envisioning freedom as part of the 96 Acres work on issues of incarceration. Led by Michael Johnson (Cultural Worker) and Anderson Chaves (Spoken Word Artist) Creative Resistance Past|Present is a workshop that explores the collaborative creative process of liberation.
Through this workshop participants will examine the various uses of art and art making in historical as well as contemporary moments. This workshop will tackle how we imagine complex systems of oppression through art to understand them as designed human interactions. Then from there how we might re-imagine our world, our interactions, our experiences beyond them.
These workshops will take place within the 96 Acres exhibition/workspace inside the After Today exhibition at Gallery 400.