Art & Art History
Chicago New Media 1973–1992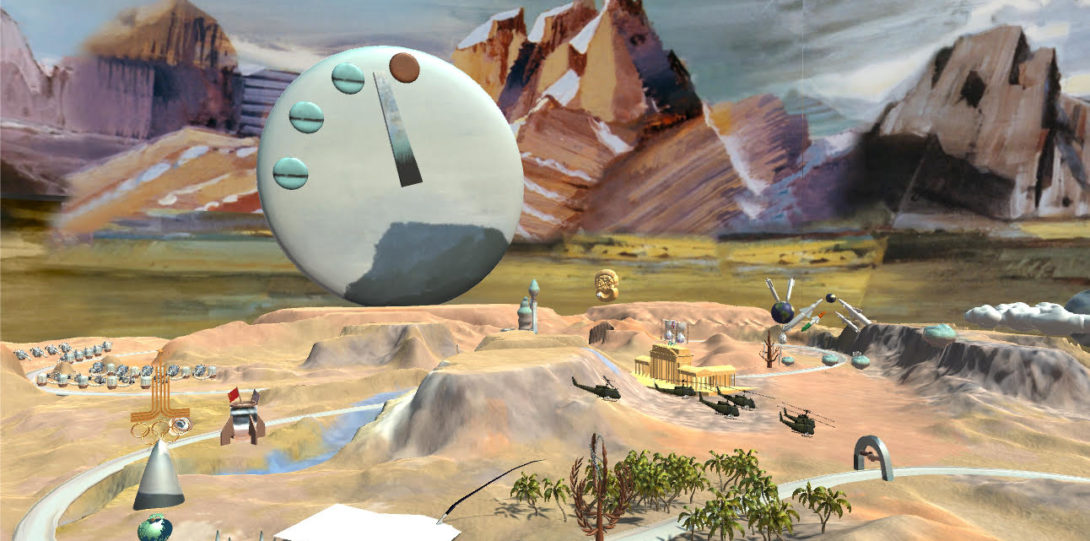 Thursday, November 01, 2018–Saturday, December 15, 2018
Location:
Gallery 400
400 South Peoria Street, Chicago, IL 60607
Craig Ahmer, Geoffrey Allen Baum, Dick Ainswoth, Josephine Anstey, Anna Anthropy, Bally, Annette Barbier, Nancy Bechtol, Natalie Bookchin, Drew Browning, Nick Britz, Rachel Bronson, Barry Brosch, Lief Brush, Bulletin of the Atomic Scientists, Cardboard Computer (Jake Elliott, Tamas Kemenczy and Ben Babbitt), Beth Cerny Patiño, Glen Charvat, Charlie Chaplin, Carolina Cruz-Neira, Electronic Visualization Laboratory Essanay Studio, Jeffery Daniels, Sumit Das, Greg Dawl, Tom DeFanti, Jamie Fenton, George Francis, Janine Fron, Chip Dodsworth, Margaret Dolinsky, Jackbox Games, Petra Gemeinboeck, Azadeh Gholizadeh, Copper Giloth, Marientina Gotsis, Rylin Harris, John Hart, Chris Hartman, Jan Heyn Cubacub, Alex Hill, Louis Kauffman, Chris Kemp, Josephine Lipuma, Doug Lofstrom, Brenda Lopez Silva, Sara Ludy, Ya Lu Lin, Richard Mandeberg,Todd Margolis, Stephan Meyers, Midway, Keith Miller, Phil Morton, National Center for Supercomputing Applications, Dan Neveu, Rick Panzer, Dave Pape, Stu Pettigrew, Dana Plepys, Tim Portlock, Sabrina Raaf, Sticks Raboin, William Robertson, Jason Salavon, Dan Sandin, Ellen Sandor, Richard Sayre, Mimi Shevitz, Bob Snyder, Laurie Speigel, Barbara Sykes, Jim Teister, Gunether Tetz, Diana Torres, Joseph Tremonti, John Tsui, Jane Veeder, Siebren Versteeg, Williams, Raul Zaritsky
Although Chicago is not often thought of as an epicenter for new media art, technology, or industry, the city was home to some of the earliest and most important experiments in new media in the late 20th century. Curated by SAIC Associate Professor of Film, Video, New Media, and Animation, Jon Cates with assistance from VGA's Director of Exhibitions and Programs Chaz Evans and Executive Director Jonathan Kinkley, Chicago New Media 1973–1992 chronicles the under-recognized story of Chicago's contributions to new media art by artists working at the University of Illinois at Chicago's Electronic Visualization Laboratory (UIC's EVL), School of the Art Institute of Chicago (SAIC), and at Midway Games and Bally from 1973–1992.
Jon Cates is the Chair of the Film, Video, New Media & Animation department at the School of the Art Institute of Chicago. His projects are presented internationally in exhibitions and events in cities such as Aix-en-Provence, Austin, Berlin, Beijing, Boston, Cairo, Chicago, Dallas, Houston, Linz, Los Angeles, Madrid, Mexico City, New York, Vienna and Warsaw as well as being widely available online His research and writings appear online and in print publications from MIT Press, Gestalten, The Penn State University Press, Unsorted Books, Intellect Books and The Chicago University Press. In 2005 he created the concept of Dirty New Media, a culture of what is now often known as Glitch Art.
Chaz Evans makes performances, installations, and software that investigates emerging and historical technology. Often satirical in tone, Evans's work pits technologies against their perceived or intended purpose. Exhibitions include Chicago Artists Coalition; Evanston Art Center; Hyde Park Art Center, Chicago; Peeler Art Center, Greencastle, Indiana; Tower Fine Arts Center, Brockport, New York. His teaching experience includes instructor at the School of the Art Institute Chicago; part-time assistant professor of art and art history: digital and new media art at DePauw University. Presentations include Society for Cinema and Media Studies, Processing Chicago. Evans earned an MFA in 2012 from the University of Illinois at Chicago and an MA in 2011 from the University of Illinois at Chicago, and a BA in 2006 from North Park University, Chicago. Learn more about Chaz Evans HATCH exhibition pARTicipatory.
Jonathan Kinkley is an arts writer and museum professional with a scholarly focus on video games and new media art. He is currently Executive Director and Co-Founder, VGA Gallery, and Philanthropic Advisor, Major Gifts, Art Institute of Chicago, and has held past roles at Krannert Art Museum, Peggy Guggenheim Collection Venice, Chinati Foundation, Gallery 400, Renaissance Society, Museum of Contemporary Art Chicago, and the Museum of Contemporary Photography. Recent curatorial projects include Chicago New Media 1973- 1992, Boomshakala: the 25th Anniversary of NBA Jam, Gun Ballet: the Aestheticization of Violence in Video Games, Dateline: Bronzeville, and Game Art VS Art Game. His work has been published in Leonardo, Time Out Chicago, the AV Club, Newcity, the Illinois Game Developers Association, Daily Illini, and VGA Gallery. He has spoken at the Chicago Design Museum, VGA Gallery, Gallery 400, GDEX, UIC, York University, Columbia University, and CUNY.