Art & Art History
Black Light and Make Room: Closing Event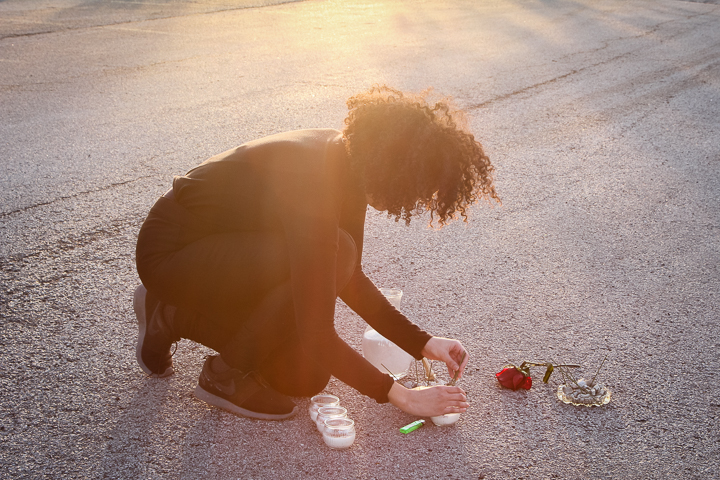 Saturday, August 05, 2017
Location:
Gallery 400
400 S. Peoria St.
Join us for the final day of Black Light and Make Room with a workshop by the Chicago ACT Collective and performances by artists Rhonda Wheatley, Adrienne Deeble, and AJ McClenon.
12:30–2:30pm  |  Room to Hold by the Chicago ACT Collective (Paulina Camacho and Silvia Gonzalez)
When we are responsible for imagining and co-creating thriving spaces, how do we tend to our wellness? How do we make room for the conditions critical to nurture the relationships necessary to see community care through? ACT Collective invites collaborators to engage in a movement based workshop using Theater of the Oppressed techniques to unpack power dynamics, collectively reflect, and share possibilities around how sanctuary invites us to participate. Work with us to compile information for furthering dialogue across Chicago addressing "Sanctuary." What is our role in defending or building a space of sanctuary in our interpersonal relationships and collective political experiences?
The Chicago ACT (Artists Creating Transformation) Collective is a diverse group of artists creating work to support movements, struggles, and communities in Chicago.
4–5pm  |  Excavating Myself and Eavesdropping on Your Future by Rhonda Wheatley
Artist Rhonda Wheatley performs excerpts from her personal journal entries, jumping through time and sharing moments of vulnerability, realization, magic, and the miraculous. Audience members are then invited to receive a public tarot card reading. Wheatley makes sculptures, paintings, and produces texts that stem from the speculative and metaphysical.
5:10–5:40pm  |  The Weight of Nothing: A Region of Space and the Unseen Gravitational Fields of Blackness by Adrienne Deeble and A.J. McClenon
From when we close our eyes to the great expanse of outer space, Blackness surrounds us. Drawing from meditative practices, science, and black thought and history, artists Adrienne Deeble and A.J. McClenon create a space for healing. This immersive sound experience, known in new age communities as a "sound bath", guides the listener through a meditation on Blackness as the root of humanity.
Adrienne Deeble and A.J. McClenon are Chicago based artists interested in the healing properties of art and sound. Originally collaborating for Beauty Breaks, a participatory workshop series for femmes of the Afro-Diaspora. Adrienne and A.J. have come together again to create a new sound bath for Gallery 400's Black Light exhibit.