Art & Art History
Being Like Leaves: Faith Wilding reads from her memoir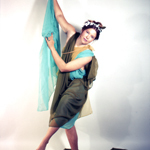 Saturday, February 15, 2014
Location:
Gallery 400 Lecture Room
400 South Peoria Street
We'd like to announce a feminist convergence, hosted by Gallery 400 and threewalls, during CAA 2014.
In conjunction with Fearful Symmetries, a retrospective featuring Faith Wilding at threewalls, and Wilding's reception of the Lifetime Achievement and President s Art & Activism Award from the Women s Caucus for Art at the College Art Association annual conference, the performance artist and author presents selected readings from her memoir.
Born in Paraguay, Wilding co-founded and collaborates with subRosa, a cyberfeminist cell of cultural producers using BioArt and tactical performance in the public sphere to explore and critique the intersections of information and biotechnologies in women's bodies, lives, and work. She co-initiated the Feminist Art Programs in Fresno and at California Institute of the Arts, and was a key contributor to the Womanhouse exhibition with Crocheted Environment and her Waiting performance. She also serves as the co-editor of Domain Errors! Cyberfeminist Practices!
Wilding is Professor Emerita of performance art at the School of the Art Institute of Chicago, a graduate faculty member at Vermont College of Fine Arts, and currently a visiting scholar at Brown University's Pembroke Center. Her artwork and writing has been featured in major feminist exhibitions including WACK! Art and the Feminist RevolutionSexual PoliticsDivision of Labor: Women s Work in Contemporary Artre.act Feminism. Wilding has exhibited nationally and internationally, including the Reina Sofia Museum in Madrid; Centre for Contemporary Art in Glasgow; MoMA PS1 and the Bronx Museum of Art in New York; Museum of Contemporary Art and Armand Hammer Museum in Los Angeles; UC Riverside Museum of Art; and the Singapore Art Museum. She is the recipient of a Guggenheim Fellowship, Creative Capital grant, and NEA artist grants. Wilding received her MFA from the California Institute of the Arts.
Related Programming
Tracers Takes on Feminism: Conversations About Motherhood, LGBTQ, and Race

Organized by Jennifer Reeder and Carrie Ruckel
Friday, February 14, 10am-5pm
threewalls
119 North Peoria, 2C
Conversation Schedule:
10am-12pm: LGBTQ
1-3pm: Motherhood
3-5pm: Race